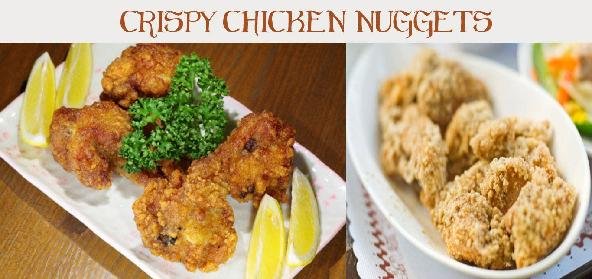 Ingredients:
• 1/3 cup – boneless Chicken tenders
• 1/4 kg – all-purpose flour (maida)
• 1/4 tsp – baking soda
• salt as required
• 1 tsp – Vinegar (sirka)
• 1/3 cup – water
• cooking oil, to fry
Method:
Cut chicken into medium size pieces, about 1.5 inch.
Mix flour with salt in a small bowl.
Mix vinegar with baking soda and add this mixture and water to the flour mixture and beat until the batter is smooth.
Dip chicken pieces into batter; allow excess batter to drip off into the bowl.
Heat oil in deep pan and fry chicken nuggets until golden brown.
Fry on the both sides.
Delicious Chicken Nuggets is ready to eat as starters or Crispy Chicken Nuggets can be served as side dish.
Recipe courtesy of Shilpa terrence