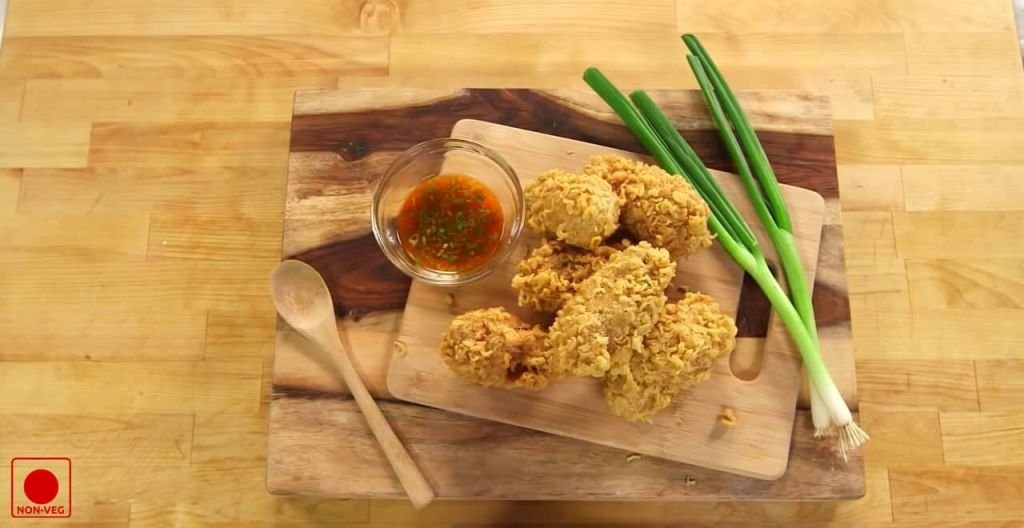 Doritos Crusted Wings is a unique recipe of chicken wings that you might just fall in love with. This wings recipe is simply good and mouth – watering. The insanely good aroma and texture of this crusted wings is amazing. These ultimate crusted wings are very crispy and taste really very delicious. Instead of frying you can also bake these wings. Enjoy them with creamy dipping sauce or honey barbecue dipping sauce.
Ingredients
– 450 gm about pieces chicken winglets
– 2 cups buttermilk
– 1 bag of Doritos
– 1 cup plain flour
– 2 beaten eggs
– 2 tablespoons garlic powder
– Salt to taste
– Black pepper powder to taste
– Oil for frying
How To Cook?
1. Rinse the wings and set aside.
2. In a bowl, combine the buttermilk, salt, garlic powder, black pepper. Whisk well to mix them.
3. Put the winglets into a large zip loc bag and pour the buttermilk mixture into the bag. Seal the bag and squish them around, make sure that winglets are coated well with this mixture.
4. Put this bag to the refrigerator for about 4 hours or overnight to marinate well.
5. Place Doritos into food processor and grind them into coarse breadcrumb.
6. When all set, take the winglets out of the fridge and bring to room temperature. It will take around 30 minutes.
7. Heat sufficient oil in a deep pan over MEDIUM-HIGH heat.
8. Meanwhile, take flour, beaten eggs and crushed Doritos separately into 3 bowls.
9. Take the winglets and dredge them in the flour, follow by the egg and lastly the Doritos. Make sure each winglet is well coated during each process.
10. Once oil heated deep fry these winglets over MEDIUM-LOW heat until cooked through and crispy.
11. Serve with creamy dipping sauce or honey barbecue dipping sauce.
Preparation Time: 4 Hours
Cooking Time: 15 Minutes