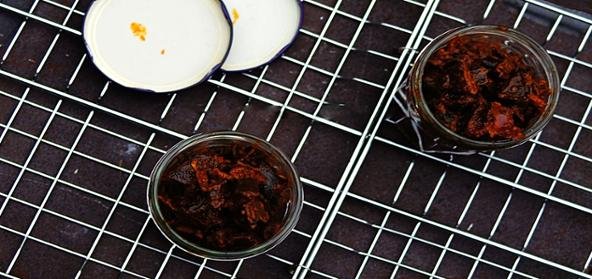 Ingredients:
• Dried Mango – 350 grams
• Ginger – 3 inch root
• Garlic – 10 Cloves
• Oil – 75ml
• Mustard Seeds – 1tsp
• Curry leaves – 4 sprigs (optional)
• Turmeric – 1tsp
• Chilli Powder – 2tbsp
• Asafoetida / Hing – ½tsp
• Vinegar – 3tbsp
• Salt – to taste
Method:
Soak the dried mango pieces in boiling water for 20 minutes. Drain.
Peel and finely chop the garlic and ginger.
Heat oil in a pan. Add the mustard seeds and allow it to splutter.
Add the ginger and garlic and sauté about 4-5 mins.
Add the curry leaves and allow it to curl about 1 min.
Reduce flame and add turmeric, chilli powder and hing sauté for 3 mins till the raw flavours leave, be careful not to burn the spices as it will taste bitter.
Add the drained mango pieces and stir for 5 minutes.
Boil vinegar in a small saucepan and add to the pickle, stir in.
Check for seasoning and add salt if necessary.
Can be stored in fridge upto 6 months.