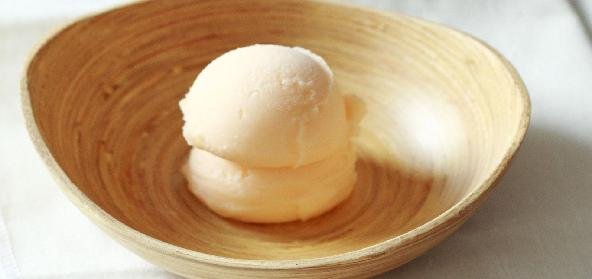 Ingredients:
• 1 – small sweet muskmelon
• 1 litre – whole fat Milk
• 1 cup – fresh Cream
• 3/4 cup – Sugar
• 2 tbsp – Corn flour
• 2 drops – vanilla essence
Method:
Peel, chop and mash muskmelon to pulp. Keep aside, refrigerated, till required.
Bring milk to a boil.
Cool 1/4 cup of milk.
Dissolve corn flour in cold milk and keep aside.
Boil milk for approximately 15-18 mins.
Gently pour in dissolved corn flour, stirring continuously.
Boil on low flame, for 3-4 mins.
Take off fire, add sugar and vanilla essence.
Stir, till sugar dissolves and, cool to room temperature.
Cover with a plastic sheet or cling film.
Set at the highest freezer setting, till almost set, but not hard.
Remove, chop and beat till fluffy.
Beat fresh cream a little and add to beaten ice cream.
Add muskmelon pulp and fold in gently.
Transfer back to freezer as before.
Freeze till, well set.
Scoop dollops and serve topped with kharbooja seeds sprinkled on top.
Recipe courtesy of Saroj Kering