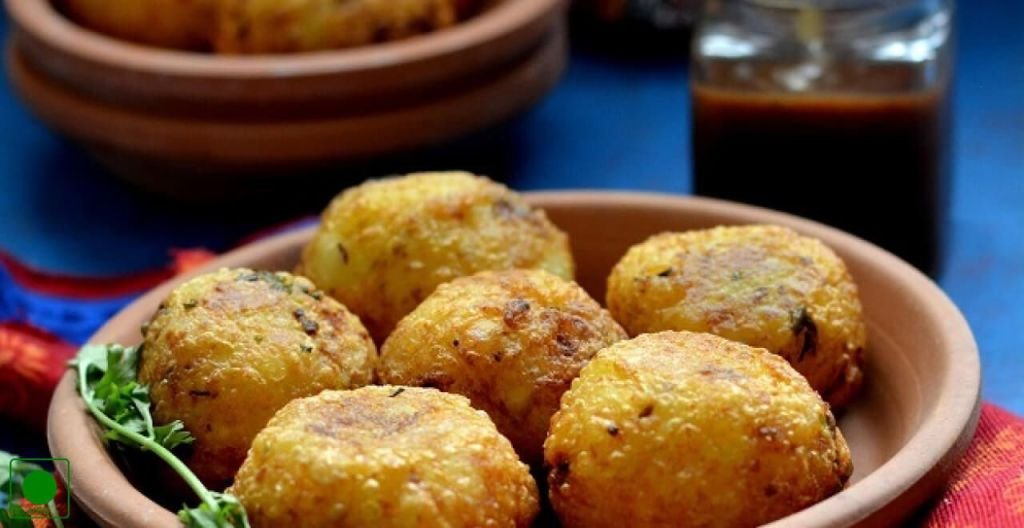 Farali Kachori is Gujarati recipe to make during the fasting days. This kachori is wholesome and healthy choice during fasts. It is similar recipe to lilva kachori. This could be a perfect farali snack for people out there on vrat days. In this famous fasting recipe, the outer layer is made with amaranth and water chestnut flour and stuffed with the filling of samvat rice and potatoes, which is seasoned with chilli, cloves powder, pepper powder and salt. Try this today and I am sure that, this spicy and tempting snack will be loved by all.
Ingredients:
– 100 gm samvat rice
– 2 medium potatoes
– 100 gm amaranth flour
– 100 gm water chestnut flour
– 200 gm oil
– 6-7 finely chopped green chilli
– 1/2 teaspoon black pepper powder
– 1/4 teaspoon clove powder
– 1/2 teaspoon red chilli powder
– 1/2 cup finely chopped coriander leaves
– Rock salt to taste
– 1/2 teaspoon cumin seeds
How To Cook?
To Make Filling
1. Clean and wash the samvat rice 2-3 times and sock it for about an hour. Then grind it to the coarse paste.
2. Meanwhile, boil the potatoes in pressure cooker until done. Peel them and mash well.
3. In a vessel, heat 50 gm of oil and add cumin seeds and green chilies. Allow them to crackle.
4. Reduce the heat and add coarse paste of samvat rice saut? it till fragrant.
5. Then add boiled and mashed potatoes, pepper powder, cloves powder, red chilli powder and rock salt. Mix well.
6. Remove from the heat and add coriander leaves and mix it again. Allow it to cool.
7. When the mixture is cool, make medium and equal sized balls from it.
To Make Dough
1. Mix together the amaranth flour, water chestnut flour, 1 teaspoon of oil and rock salt with sufficient water and knead into a stiff dough.
To Make Kachori
1. Heat the remaining oil in another skillet.
2. Divide the dough into equal sized balls and roll out each ball into a katori shape, stuff with a portion of samvat rice mixture then gather the edges and seal. Shape into a kachori.
3. Deep fry kachoris in the hot oil till golden brown and crisp. Drain on absorbent paper.
4. Serve hot with mint-coriander or date-tamarind chutney.
Preparation Time: 1 Hour + 15 Minutes
Cooking Time: 25-30 Minutes
Servings: 3 Persons