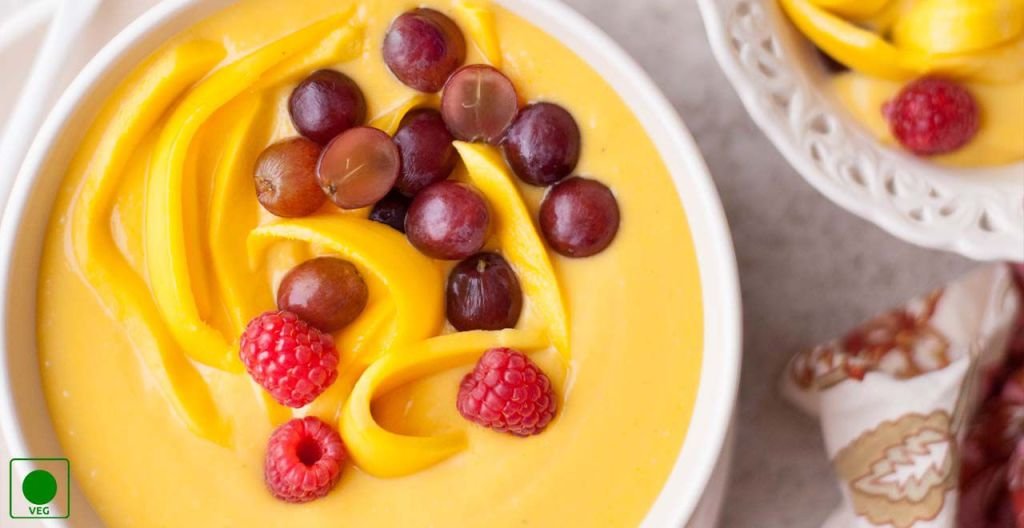 Mango is a gift of nature in the summer. Everyone likes this fruit a lot and its taste is so delicious hence there are numerous of health benefits. And yes of course it is well known as the King of fruits'. So today's recipe is mango special and that is Fresh Mango Pudding. Mango Pudding is made from fresh mango puree, gelatin and condensed milk or using coconut milk. Check out fresh mango pudding recipe here.
Ingredients:
– 2 cups ripe mango, pureed
– 1/2 cup diced ripe mango
– 1 tablespoon gelatin
– 1/2 cup condensed milk
– 5 tablespoons sugar
– 1/2 cup water
– Oil for greasing the bowl
How To Make?
1. In a bowl, add gelatin and cold water to cover it and let it soak for about 10 minutes.
2. Now, boil water in a pan and when water starts boiling switch off the flame and add this boil water in a soaked gelatin and mix it well to dissolve the gelatin easily.
3. In a bowl, add sugar, condensed milk, milk puree, mango cubes and dissolved gelatin and mix it well.
4. Now, pour this mixture in a greased bowl and put this bowl in refrigerator for about 2 hours.
5. After 2 hours take this pudding out from refrigerator and de-mould it in a plate and garnish it with slices of mango.
6. Serve chilled.
Preparation Time: 15 Minutes + 2 hours for chilling
Cooking Time: 15 minutes
Servings: 4 Persons