Seasonal Fruits mixed with milk gives rich taste to the recipe. Fruit salad is very healthy and tasty dessert recipe. Fruit salad is very easy to make. To make fruit salad, you can choose fruits of your choice. Here is the simple fruit salad recipe.
Preparation Time: 1 hours
Cooking Time: 20 Minutes
Servings: 3 Persons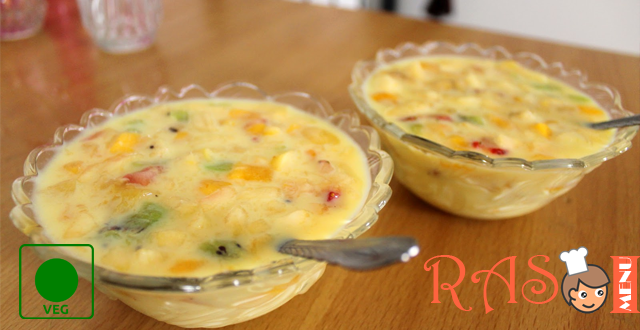 Ingredients
– 1 Apple
– 1 Sapodilla (chikoo)
– 1 Banana
– 1 Pomegranate Seeds
– 1 small Papaya
– 5-6 Strawberries
– ? cup grapes
– 4 cups milk
– 2 tablespoon custard powder
– 4 tablespoon sugar
How To Make?
1. In a pan, add milk and custard powder to it and mix it well.
2. Now put the pan over LOW flame and add let it boil for 5-10 minutes. Then add sugar to it. Keep stirring continuously.
3. Cook the mixture till it becomes slightly thick.
4. Now, remove the pan from the heat and keep it aside to cool or you can place it into refrigerator to cool it.
5. Now, wash all the fruits and peel and cut the fruits into small pieces.
6. Then, add the fruits into cold milk mixture and again place it into refrigerator to cool.
7. Once the fruit salad is cold enough serve it chilled.