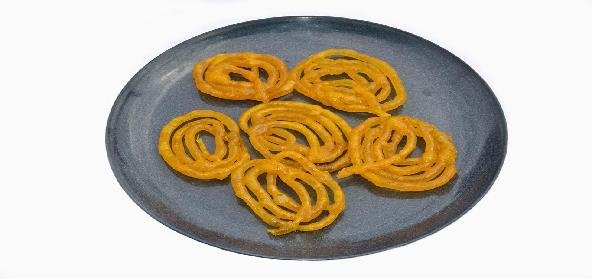 Ingredients:
• 1/2 kg – Wheat flour
• 125 g – dal flour
• 1.5 kg – Ghee
• 2 kg – Sugar
• 10 cups – water or as required
Method:
Prepare batter by mixing wheat and gram dal flours.
Boil sugar in about 7-8 cups of water to make a sticky syrup.
Place this syrup on boiling water so that it does not cool.
Boil sufficient ghee in a deep pan.
Fill in jeelebi mould with the batter and allow batter to pass through hole of the mould into the boiling ghee to form jeelebis with 4 or 5 continuous inner circles.
Fry for about 10 minutes on both sides.
Remove each jeelebi from ghee and dip it in the hot syrup for about a minute.
Keep aside in a plate or dish.
Recipe courtesy of Vimala