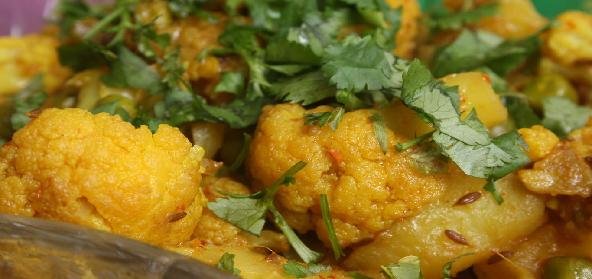 Ingredients:
• 1 bunch scallions (finely chopped)
• 1 medium Cauliflower (cut in small pieces)
• 2 tbsp Tomato Ketchup
• 1 tsp Mustard Seeds
• 2 Green chillies, chopped (take more if you want it spicy)
• 2 tbsp Coriander leaves (finely chopped)
• Salt to taste
• 1 tbsp oil
• Spices (according to taste):
• Turmeric powder
• Dhania powder
• Garam Masala
• Red Chilli powder
• cumin powder
Method:
Heat oil in shallow pan, put mustard seeds, green chillies and let seeds splutter.
Now put chopped scallions and mix it for 2-3 minutes. Add salt and all the spices. Mix well and then add tomato ketchup.
Now when this mixture leaves the oil, add cauliflower florets, mix well and cover it. Don't add water.
Reduce the heat to low. It will be done in 10 -15 minutes, keep checking in between.
Garnish with fresh coriander leaves.
Serve hot with roti or paratha.
Recipe courtesy of Mani Kaur