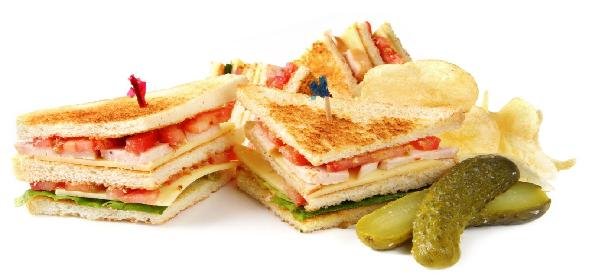 Ingredients:
• 6 slices large sandwich bread
• 1 Cucumber
• 2 Tomatoes
• 2 Onions
• 2 potatoes, boiled & peeled
• 1/2 cup – cabbage, finely shredded
• 1/2 cup – spring onions, finely chopped
• 1 cup – cheese grated
• 2 tbsp – green all purpose chutney for sandwiches
• Tomato sauce
• Butter for bread
Method:
Slice tomatoes, onions, cucumber, potato in thin rounds.
Butter both sides of bread slices.
On one side of three slices apply chutney.
One side of three slices apply sauce.
Place chutney slice side facing up on a plate.
Place layers of cucumber, potato, tomato, onion.
Sprinkle some shredded cabbage, spring onion.
Top with plenty of grated cheese.
Place sauce slice with sauce side down, over cheese.
Press sandwich lightly.
Place carefully on a preheated grill of grill toaster.
Check to adjust if both plate are on highest gap level.
Grill to a golden brown, cut into 2 triangles.
Serve hot with tomato sauce.
Recipe courtesy of Sify Bawarchi