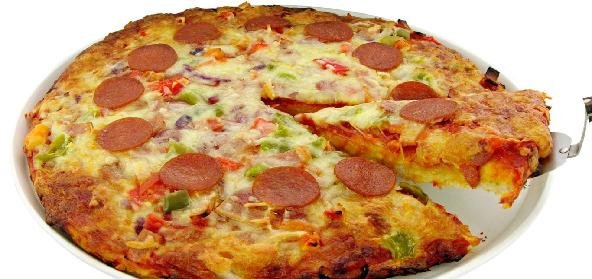 Ingredients:
• 2 Cups – All purpose Flour or 1.5 cups – All purpose and 1/2 cup Wheat Flour
• 1 tsp – Ajwa
• 1 tsp – Italian seasoning or Parsley or Oregano flakes
• 3 Cloves – Fresh Garlic (finely chopped)
• 3 – Finely chopped Green chillies (optional)
• 2 tsp – Yeast
• 1/2 tsp – Sugar (optional – its takes out the bitterness from yeast)
• 3 tsp – Oil (any kind)
• Salt to taste
• Shredded Mozzarella cheese or pizza cheese and toppings of your choice.
Method:
Preheat Oven to 400 degree F.
Take the dough and roll it out.
Spread a thick layer of sauce on the dough.
Sprinkle some shredded mozzarella or pizza cheese on it.
Garnish with toppings of your choice like sliced or chopped red onions, sliced tomatoes, mushrooms, ground meat, green peppers, pineapple, jalapeno peppers.
Sprinkle more cheese on top of this garnish.
Set oven to 350 degree F.
Place the pizza pan on the lowest rack and let it bake for 18-20 mins or till the cheese melts and the crust (bottom) is brown.
This recipe is for one 12-inch pan Pizza.
Recipe courtesy of Dipti