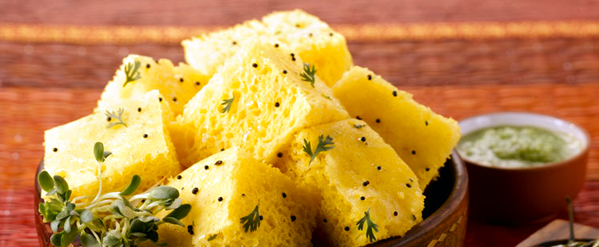 Khaman Dhokla is a famous Gujarati snacks recipe. Dhokla is eaten in breakfast, snacks or with main course of lunch or dinner. Khaman dhokla is made from soaking chana dal and then grind it in a thick paste. Then this mixture is steamed in a dhokla steamer and you will get yummy, delicious khaman dhokla. Below is the step by step guide to make instant khaman dhokla.
Ingredients
– 1 cup Bengal gram (chana dal), soaked overnight
– 4 green chilies
– 1 small piece of ginger
– 3 tablespoon vegetable oil
– Salt to taste
– 1/4 teaspoon asafoetida
– 1/4 teaspoon bicarbonate of soda
For Tempering
– 1 tablespoon vegetable oil
– 1/2 teaspoon mustard seeds (rai)
– 1/2 teaspoon cumin seeds (jeera)
– 3-4 dry red chilies, whole
– 10 curry leaves
– 1/2 cup green coriander, chopped
– 1/2 tablespoon grated coconut
How To Cook?
1. Grind the green chilies and ginger to a smooth paste. Keep aside.
2. Grind the Bengal gram coarsely; whisk to incorporate air in it. Keep aside to ferment in a warm place for at least 10 hours or till tiny bubbles appear.
3. Add the oil, salt, asafoetida, bicarbonate of soda and green chili-ginger paste to the Bengal gram paste.
4. add a little water and whisk the mixture thoroughly once again.
5. Grease a flat stainless steel plate or a baking dish. Spread the mixture to a thickness of 1″. Steam till it's done. To check if the dish is ready, pierce with a fork. If the fork comes out clean, then the dhokla is ready.
6. Allow to cool, then cut into 1-1 1/2″ squares.
7. For the tempering, heat the oil in a pan, add the mustard seeds, cumin seeds and dry red chilies. When they start crackling, add the curry leaves and pour over the dhokla.
8. Serve garnished with coconut and green coriander chutney.
Preparation Time: 10 Minutes
Cooking Time: 20 Minutes