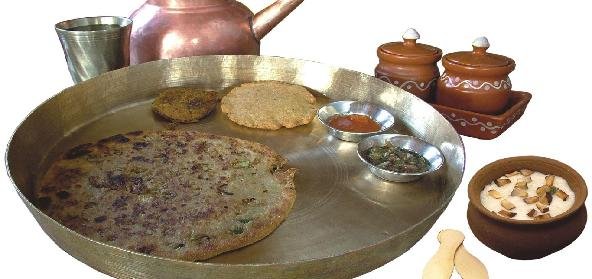 Ingredients:
• 1/2 cup – jowar flour
• 1/2 cup – Wheat flour
• 1 small bunch – Methi leaves (fenugreek)
• Chilli powder as desired
• 1 tsp – Jeera (or ajwain)
• Salt as per taste
• 1 tsp – oil
• Ghee for preparing paratha
Method:
Wash and finely chop the fenugreek leaves (methi leaves).
Mix Jowar flour, wheat flour, chilli powder, salt, 1 tsp of oil and jeera well.
Mix the chopped fenugreek leaves to the above mixture.
Make a dough adding water to the mixture.
Dough should be medium tough.
Knead the dough properly until it becomes soft.
Keep it aside for 10 minutes.
Divide the dough into small balls and roll each ball into a round shape.
Grease a tava with ghee and place the paratha over it, when done on one side turn on the other side and apply ghee again and fry properly till both sides turn golden coloured.
Serve piping hot with a tbsp of butter and a bowl of curd.
Recipe courtesy of Swathi