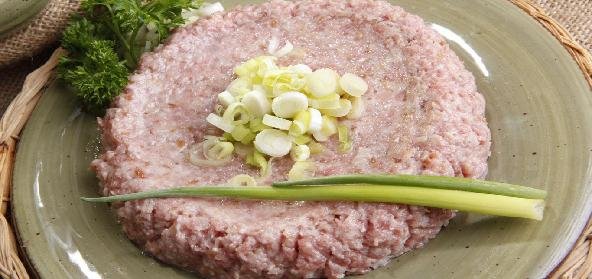 Ingredients:
• 500 gms – fresh ground lean lamb
• 1 cup – fine crushed Wheat (borghul)
• 1 – small onion, peeled and and finely chopped
• 5 gms – (50 leaves) fresh Basil leaves, finely chopped
• 1 tsp – salt to taste
• 1 tsp – Cinnamon powder
• For garnishing :
• 3 tbsp – Olive oil
• 1 tsp – Peanuts or Walnuts
• Fresh Mint leaves
Method:
Put the crushed wheat (borghul) in a sieve.
Rinse for 2 mins. under cold running water.
Then drain to remove as much moisture as possible by using the back of a spoon to press out excess water.
It should be dry to the touch.
Put the crushed wheat in a large bowl and add the onion, basil, salt, cinnamon and allspice.
Mix in the meat. Dip your hand in the cold water and knead mixture until it is firm and soft.
Place on your chosen platter and garnish with fresh mint, walnuts and olive oil.