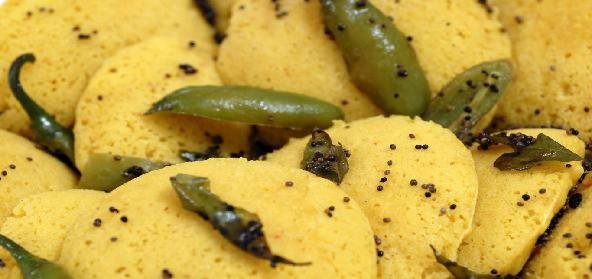 Ingredients:
• 1 packet – khatta dhokla mix
• 1/2 cup – green chutney
• 3 tbsp – Tomato ketchup
• 1 tbsp -grated Coconut
• 1 tbsp – fine bhel sev (optional)
• 1 – onion, finely chopped
• 1 tbsp – coriander leaves, finely chopped
Method:
Follow instructions on packet to make dhokla.
But make two plates instead of one, using half the batter for each plate.
Cool each plate, pry out each round carefully with knife and spatula.
Place one round on serving plate.
Apply green chutney to cover top surface.
Place other piece over this and press down gently.
Apply sauce to second layer top.
Sprinkle onion, coconut, sev, coriander and drizzle sauce in that order.
Cut neatly into bite-sized diamond shapes.
Serve immediately.
Recipe courtesy of Saroj Kering