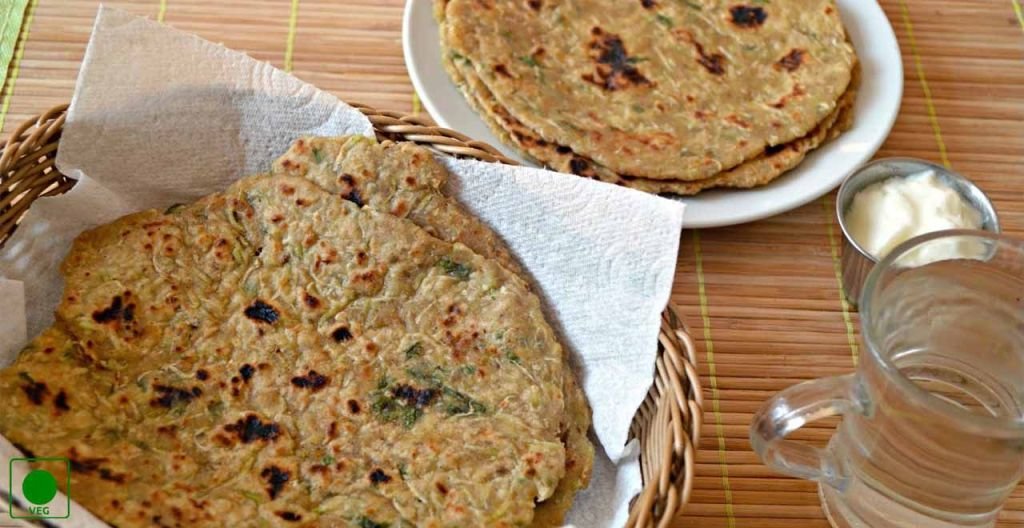 Missi roti is a traditional Punjabi recipe which is very nutritious and of course the taste is also very good. The combination of flours gives different and unique flavour to this roti. Generally it is made from wheat flour, gram flour and Maida. You can avoid Maida to make it more healthy and nutritious. It is a perfect lunch or dinner recipe and also very easy to make. Let's learn how to make missi roti.
Ingredients
– 200 gm wheat flour
– 200 gm gram flour
– 100 gm maida
– Salt to taste
– 1 teaspoon pepper powder
– 1/2 cup finely chopped onions
– 1/2 cup finely chopped coriander leaves
– 1 tablespoon green chilli paste
– 1 teaspoon coarsely ground ajwain
– 2 tablespoons pure ghee
– Pure ghee for frying
How To Cook?
1. First, sieve the wheat flour, gram flour and maida together twice.
2. Then add 2 tablespoons of ghee to it along with all the other Ingredients and mix well.
3. Now, knead into pliable dough with water and keep aside for an hour, covered with a damp cloth.
4. After an hour take dough and divide it into equal balls.
5. Now, roll out each balls and cook on buttered hot grilled, adding 1 teaspoon ghee on both sides till golden brown.
6. Serve this delicious Missi Roti hot.
Preparation Time: 1 hour + 10 Minutes
Cooking Time: 20 Minutes