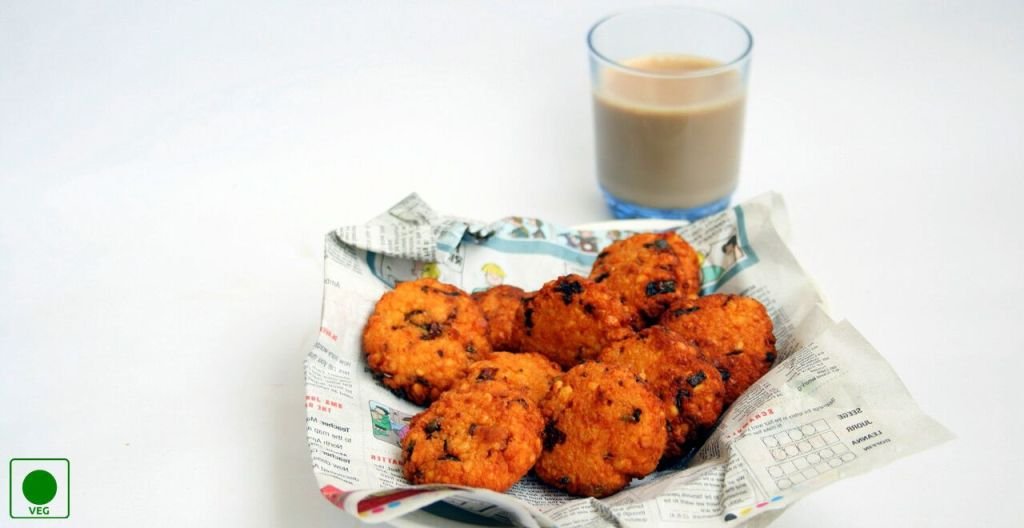 Mix dalwada is all time favourite Gujarati street food recipe. In Ahmedabad region of Gujarat, the rain is celebrated with a long queue at shops selling hot dalwadas. In there, it is generally served with fried green chillies. But it's really comforting to sit at home and have this wadas with cup of tea and enjoy the lashing rain. This snack is the favorite of every Gujarati and sometimes it is completely alright to indulge yourselves with fried food in rainy days.
Ingredients
– 1/2 cup chana dal
– 1/2 cup tuvar dal
– 1/2 cup moong dal
– 1/2 cup urad dal
– 1 finely chopped onion
– 3-4 finely chopped green chilies
– 1 inch ginger, chopped
– 1/4 cup chopped cilantro
– 1 teaspoon chopped curry leaves
– 2 tablespoons chopped mint leaves
– 1/4 teaspoon soda bi-carb
– Salt to taste
– Some chopped cashews
– Oil for frying
How To Cook?
1. Place all the dal in a vessel and wash them into running water and soak them for about 3-4 hours. Drain the excess water.
2. Place this soaked dal in a mixture blender and add chopped green chilies and ginger to it and blend them to form a coarse paste.
3. Transfer this paste to a bowl and add cashews, onion, cilantro, curry leaves, mint leaves and salt. Mix well and make sure the batter is not too dry if it is add 1-2 tablespoons of water.
4. Now, heat the oil in a wok and when oil is sufficiently heated drop spoonful of prepared batter and fry this vadas till golden brown and crisp.
5. Drain them on plate lined with kitchen paper.
6. Serve hot with fried green chilli and sliced onion.
Preparation Time: 4 Hours + 15 Minutes
Cooking Time: 20-25 Minutes
Servings: 4 Persons