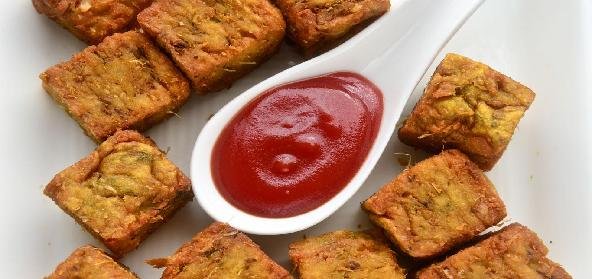 Ingredients:
• 1 cup cooked brown Rice
• 1 cup Wheat flour
• 3/4 cup gram flour (besan)
• 1.25 cup chopped Spinach
• 1/2 cup chopped Cilantro
• 1/2 tsp cumin powder
• 1 tsp Cumin seeds
• 1/2 tsp crushed Ginger
• 1/2 tsp chili powder
• 1/4 cup buttermilk
• salt to taste
• For tempering:
• 1.5 tsp oil
• 1 tsp Mustard Seeds
• 1 tsp sesame seeds
Method:
In a large bowl mix in the wheat flour and the gram flour. Add the salt, the chilli powder, cumin powder, cumin seeds and mix well. Add the spinach and all the other ingredients and mix well and knead into a soft dough. Make small lime sized balls and roll it into slightly elongated shape and steam for about 5-6 mins.
Cool slightly, cut the elongated steamed muthias into 1/4 inch discs and keep aside.
Heat oil in a small pan and put in the mustard seeds and sesame seeds. When it splutters, pour this on top on all the steamed muthias.
Serve hot with cilantro chutney or ketchup.
Recipe courtesy of Usha