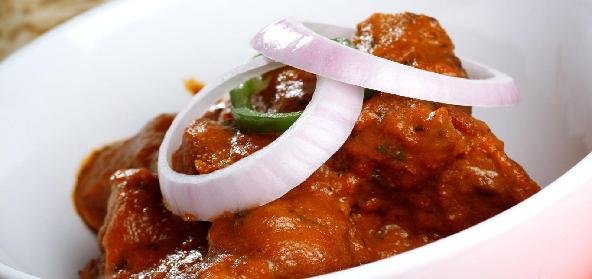 Ingredients:
• Mutton – 1 kg
• Onion – 2-3
• Curd – 1 tbsp
• Turmeric powder – 1 tsp
• Coriander powder – 1.5 tsp
• Chilli powder – 1.5 tsp
• Paste of ginger, garlic, coriander leaves, Mint leaves – 2 tsp
• Tomato – 2
• Clove – 4
• Cinnamon stick – 1 inch
• Cumin seed – 1 tsp
• Black pepper – 4
• Bay Leaf – 2
• Garam Masala powder – 1 tsp
• Salt to taste
• Coriander leaves for garnishing
• Oil – 1 tbsp
Method:
Clean the mutton pieces thoroughly under running water.
Finely chop the onions and tomatoes. Keep aside.
Heat oil in a pan, add the garam masala powder, cloves, bay leaves, black pepper, cumin seeds and cinnamon.
Fry the spices for a few seconds.
Add the chopped onions and cook until golden brown.
Add the tomatoes and stir-fry for a few seconds.
Cover the pan with a lid and cook for some time.
Stir-fry once again and ensure that the tomatoes have shrunk in size.
Add the mutton pieces, stir-fry and cover once again with the lid.
When the mixture starts leaving moisture, add turmeric powder and cover once again.
Add salt, coriander powder, chilli powder, ginger-garlic-coriander-mint paste and curd. Stir-fry.
Cover the pan with the lid and cook for a few minutes.
Add some water to cook the mutton pieces.
When the mutton is nicely cooked, allow the sauce to thicken a bit by evaporating on medium flame.
Garnish with freshly chopped coriander leaves.
Serve hot with jeera rice or roti.
Recipe courtesy of Rashmi