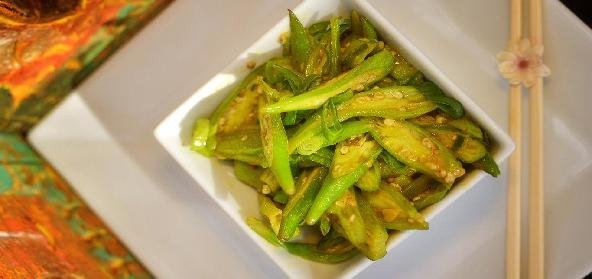 Ingredients:
• 1/2 kg – vendaikkai/ladies finger, okra, bendi
• 3 tbsp – Coriander seeds
• 3 tbsp – Bengal Gram dal
• 1 tsp – split black gram dal
• 10 – Red Chillies
• 1/4 tsp – Asafoetida
• 1 inch – Cinnamon
• 1.5 tsp – salt
• 2 tbsp – thick juice extracted out of a marble size Tamarind
• 3 tbsp – cooking oil
• 1/4 tsp – Mustard Seeds
Method:
Heat a drop of oil and add cinnamon.
Then add the coriander seeds, Bengal gram dal and black gram dal and roast till it gives out a pleasant aroma. Add chillies and asafoetida and roast till the dals turn golden in colour and the chillies become crisp.
Be careful not to burn the dals – as they will then taste bitter
Cool the roasted ingredients and grind them into a coarse powder.
Add salt and a little water and run the mixer for two more minutes to get a thick paste.
Now wash and dry the vendaikai. Cut off the top and the tail portion.
Using a sharp knife slit the vegetables lengthwise.
Stuff the slit vendaikais tightly with the prepared masala.
Heat the oil in a thick bottomed pan and add mustard seeds.
When it splutters arrange the stuffed vendaikais in the pan and lightly roll them one by one in the oil.
Add the thick tamarind extract, mix lightly and cover with a lid.
Cook on slow fire turning the vegetables now and then.
Remove the lid when the vendaikai becomes tender.
Continue roasting till it becomes dry.
Enjoy the vendaikai masala with chapattis or rice.