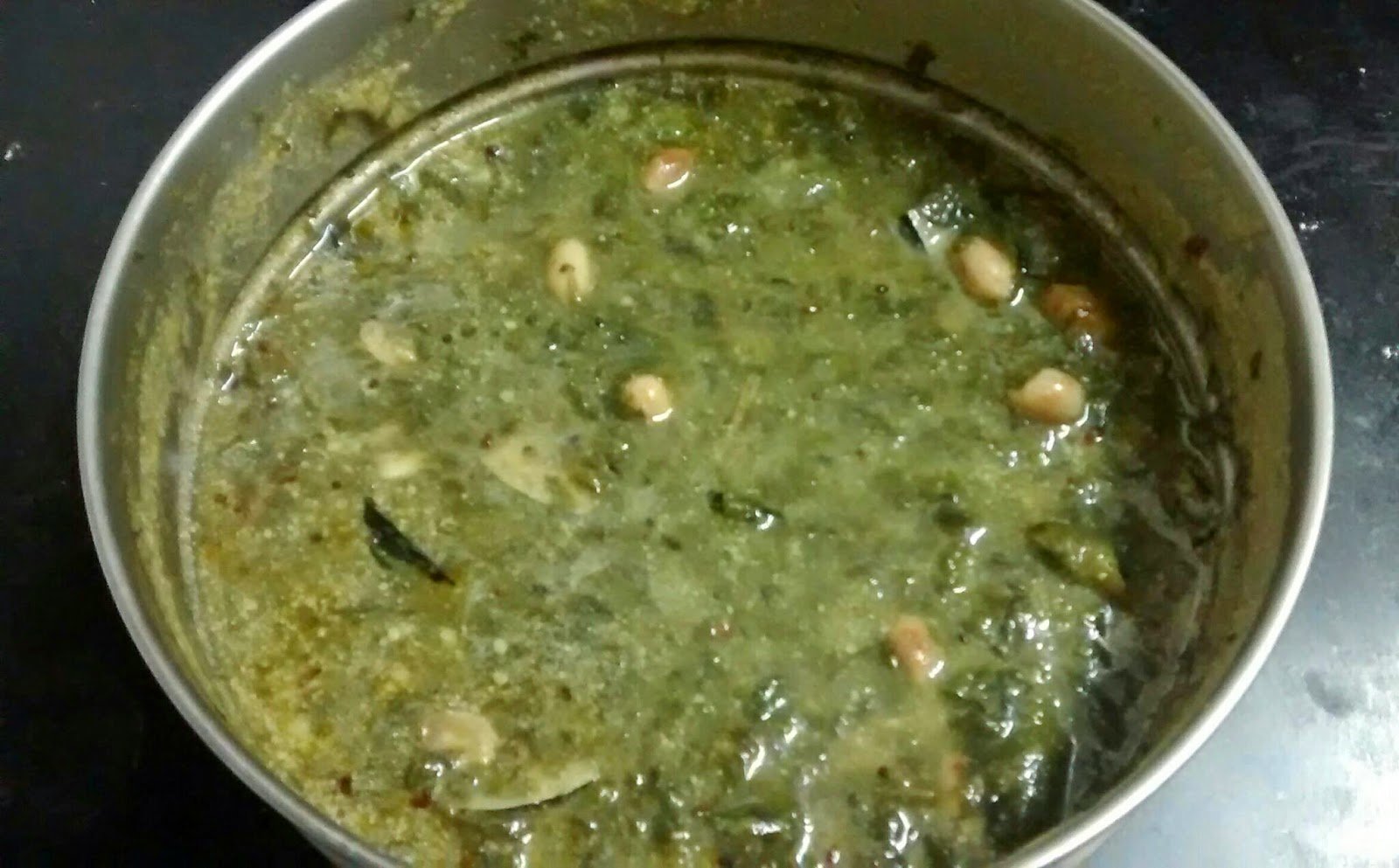 Palakchi Patal Bhaji is popular Maharashtrian recipe. Patal bhaji is cooked with palak curry with chana dal, besan, coconut and other tasty Ingredients. Temper the bhaji before serving. Enjoy the recipe with paratha.
Ingredients:
– 1 bunch of spinach (palak)
– 1 small piece of ginger (finely chopped)
– 1/2 cup curd
– 5 tablespoon besan
– 4 tablespoon chana dal
– 4 tablespoon sing dana (peanuts)
– 2 tablespoon coconut (cut into thin slices)
– 4 finely chopped green chilies
– 1/2 teaspoon sugar
– 1/2 teaspoon mustard seeds
– 1/2 teaspoon cumin seeds
– 1/2 tablespoon turmeric powder
– 7-8 curry leaves
– 1 tablespoon garam masala powder
– 10 garlic flakes
– 2 tablespoon oil
– A pinch of asafoeida
– Salt to taste
How To Cook?
1. Soak sing dana (peanuts) and chana dal in enough water for 1 hour.
2. Now, in a pressure cooker add 1 tablespoon oil and then add asafoeida and chopped green chilies, and ginger to it and slightly fry it for 2 minute.
3. Then, add chopped spinach, chana dal, sing dana and coconut slices to it. Add required water and close the pressure cooker and cook for 5 minutes.
4. After that remove the pressure cooker from heat and add besan and curd and mix it well.
5. In a frying pan, add oil and add cumin seeds and mustard seeds to it. When mustard seeds and cumin seeds splutter add curry leaves, asafoeida, and turmeric powder.
6. Then add palak mixture to the pan.
7. Now, add red chili powder and garam masala powder to it and cook it for 5 minutes.
8. Serve hot patal bhaji with rice or paratha.
Preparation Time: 20 Minutes
Cooking Time: 20 Minutes
Servings: 3-4 Persons