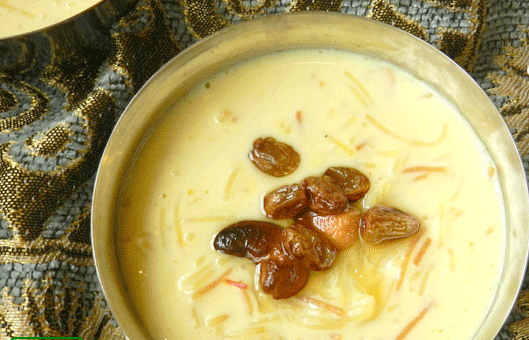 Paneer kheer is very delicious and easiest Indian sweet recipe.It's a perfect dish to serve in festival days; also you can enjoy it anytime you want. As the name suggest, Paneer is the main Ingredients into the kheer. Cornflour used in this recipe makes your kheer thicker and creamier. You can serve it hot or cold, as your family like to eat it.
Ingredients
– 1 liter Full cream milk
– 100 gm Paneer
– 4 tablespoon sugar
– 2-3 cardamom seeds (elachi)
– 1 tablespoon cornflour, mixed into milk
– A pinch of kesar (saffron)
For Garnishing
– 2 tablespoon pistachios (pista), cutted into small pieces
– 2 tablespoon almond, cutted into small pieces
How To Cook?
1. Take a Deep Pot and add milk. Now ass some cardamom seeds into milk and boil it for 2-3 minutes.
2. SLOW down a heat and cook/boil milk for half an hour. Stirring in between.
3. Now, add corn flour (mixed into milk) and sugar and cook it for 5 minute. Stirring in between.
Step 4: Now add Paneer and cook it for few minutes more.
5. Now remove it from the heat and place it into another bowl. Add pinch of kesar into the kheer and place it into refrigerator to make it cool.
6. garnish with silver foil, almond and pistachios and server cold.
Preparation Time: 10 Minute
Cooking Time: 15 Minute