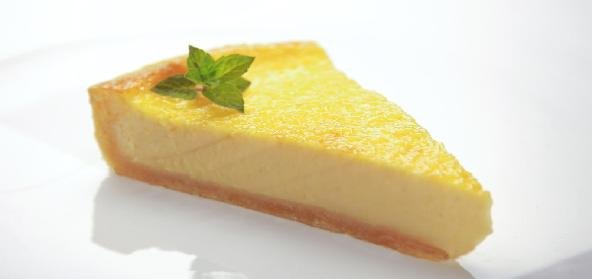 Ingredients:
• For the biscuit base:
• 1 cup digestive biscuits, crushed
• 1/3 cup butter, melted
• For the filling:
• 1/2 cup (100 g) Cream
• Juice of 1-inch Lemons
• 1 tsp Lemon rind, grated
• 1 cup Cream cheese
• 1/2 cup powdered Sugar
• 1/2 tsp Lemon essence
• For the Lemon sauce
• 3 tbsp Sugar
• 1 tsp cornflour
• 1/2 tbsp Lemon juice
• 1/2 tsp Lemon rind, grated
• 2 drops Lemon essence
• A drop of Lemon yellow colour (optional)
• 1/2 tsp Butter
Method:
For the biscuit base:
Mix the biscuit crumbs with the melted butter and press the mixture into the base of a 175 mm. (7″) loose-bottomed pie dish.
Chill until firm.
For the filling:
Whisk the cream in a clean dry bowl till soft peaks form.
Keep aside.
Mix the lemon rind, lemon juice, cream cheese, sugar and lemon essence till it is smooth.
Fold in the whipped cream gently so that it does not curdle or split.
How to proceed:
Spread the filling over the set biscuit base and chill until firm.
For the lemon sauce:
Combine the sugar with 1/2 a cup of water in a saucepan and heat till the sugar is dissolved.
Dissolve the cornflour in 2 tbsp of water and add it to the sugar syrup.
Heat, stirring continuously till the mixture thickens and gets a coating consistency.
Add the butter and mix well.
Cool and add the lemon juice, lemon rind, lemon essence and lemon yellow color.
Mix well and keep aside.
Cool completely while stirring continuously.
For the garnish:
Unmold the cheese cake and place on a serving plate.
Pour the lemon sauce on top and refrigerate again.
Serve chilled.
Recipe courtesy of Ruchi Khanna