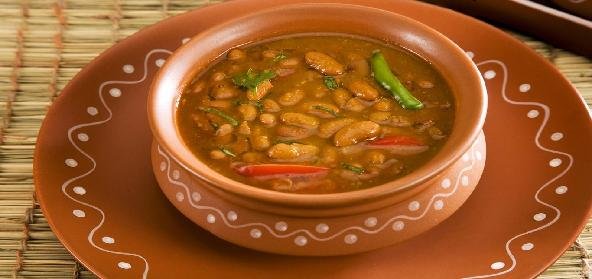 Ingredients:
• 10 g- Ginger
• 5 flakes -garlic
• 1/2 cup- vegetable oil
• 2- large (300g) Onions chopped
• 1 cup -coconut grated
• 3- large Tomatoes chopped
• 1 tsp- Red Chilli powder
• 2.5 cups -kidney beans soaked overnight
• 4.5 cups -water
• 1 tsp -garam masala powder
• 1/4 tsp -turmeric powder
• salt
• 1 tsp-cumin and coriander powder
Method:
Grind ginger garlic into paste. Fry the onions and coconut in oil separately till golden brown.
Then grind it and make a fine paste.
Add water, tomatoes and kidney beans in a cooker.
Close it and bring to full pressure on high heat and cook for 20 minutes.
Heat oil in cooker. Add ginger, garlic paste. Then add the onion and coconut paste. Stir for a few seconds.
Add garam masala, red chilli powder, turmeric powder, cumin and coriander powder and fry till golden brown.
Then add cooked kidney beans.
Close cooker and cook for 15 min.
Remove cooker from heat. Allow to cool naturally.
Recipe courtesy of Sify Bawarchi