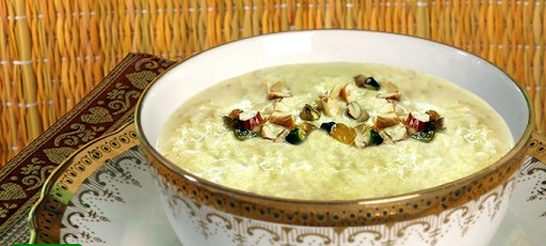 Rice kheer is traditional and favorite sweet dish of India, especially most popular in north India. It is cooked from rice and milk. Rice kheer is made during festival or other celebration and can be served after meals. Rice kheer is very easy to make and doesn't take much time to cook. Here is the step by step guide to make rice kheer recipe at home.
Ingredients
– 1/4 cup Rice
– 1 litre Milk
– 1 tablespoon cardamom powder (elachi powder)
– 6-7 cups Sugar
– 1/4 cup chopped cashews
– 1/4 cup sliced almonds
– 1/4 cup chopped pistachio nuts
How To Make?
1. Pour the milk into heavy based pan and add milk, cardamom powder and rice.
2. Cook it on MEDIUM heat and let it boil slowly. Stirring occasionally and check that the rice is not sticking to the bottom of the pan.
3. Simmer till the milk reduced by half of the amount and rice is cooked.
4. Now, add sugar and mix well and cook for 2-3 minutes.
5. now, remove the pan from the heat and transfer the rice kheer in to bowl.
6. add pistachios nuts and almonds to rice kheer and keep aside to cool.
7. Serve Rice kheer cold.
Preparation Time: 5 Minutes
Cooking Time: 20 Minutes