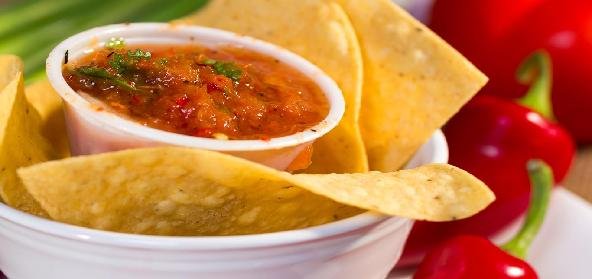 Ingredients:
• 1/2 kg – very ripe Tomatoes
• 2 tbsp – Tomato ketchup
• 1/2 – medium white onion, cut into slices
• 2 – medium Garlic cloves, peeled and smashed
• 1 tsp – chilli flakes
• 1 tsp – salt
• 2 tbsp – chopped coriander
• 1 tsp- Lime juice
Method:
Heat the broiler and arrange a rack in the upper half of the oven.
Place the tomato halves skin-side up on a baking sheet.
Broil until the tomato skins start to blacken and blister, for about 7 minutes.
Add the onion and garlic.
Transfer the vegetables to a blender, add the measured salt, and blend into a smooth puree.
Transfer to a medium heatproof bowl and let it cool to room temperature.
Stir in the coriander and lime juice, tomato Ketchup and season with more salt and lime juice.
Store in the refrigerator and use with chips or tortillas.
Recipe courtesy of Sify Bawarchi