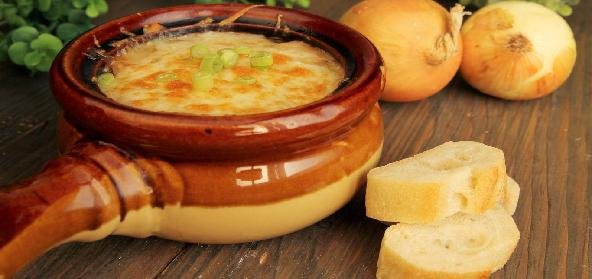 Ingredients:
• 2 onions, thinly sliced into rings
• 4 slices whole Wheat or herb bread
• 1 cup – grated processed cheese
• 1 flake Garlic
• 1 tbsp – Butter
• 1 stalk Spring onion greens, finely chopped
• 4 cups – vegetable stock or water
• salt and pepper to taste
Method:
Apply butter in bread slices lightly, with half butter.
Dry them in warm oven for 5 minutes.
Heat remaining butter in large pan.
Add onions. Stir fry till golden and transparent, but not brown.
Add crushed garlic flake, stock, and bring to a boil.
Simmer for 20 minutes, or till onions are very soft.
Add salt and pepper to taste.
Ten minutes prior to serving, place 4 slices of bread in 4 individual oven or microproof soup bowls.
Sprinkle half cheese over slices.
Place in hot oven for 3-4 minutes.
Pour boiled stock in all four bowls.
The slices will rise to the top.
Sprinkle remaining cheese, chopped spring onions. Place under a hot grill in oven till cheese melts completely.
Serve hot, with garlic buns or soup sticks.
Recipe courtesy of Sify Bawarchi