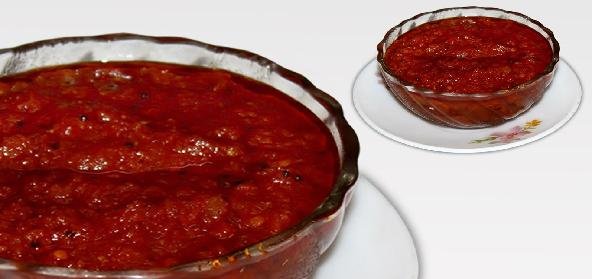 Ingredients:
• 3 large Onions
• 2 large Tomatoes
• 3 chillies
• 2 Cloves
• 2 Cinnamon
• 2 Cardamom
• 2 tsp – Ginger Garlic paste
• Salt to taste
• Chilli powder
• 6 tsp – oil
• Coriander
Method:
Heat oil in a thick bottom vessel. Put the cloves, cardamom and cinnamon. As the spices splutter, put the finely cut onions and chillies (cut lengthwise) into the vessel.
After 2 mins, put the finely cut tomatoes into the vessel. Now add the ginger-garlic paste and salt to the contents.
Close the vessel with a lid and let the contents cook on a low heat.
Just 2 mins before you remove the vessel from the flame, add chilli powder according to your taste and garnish with finely chopped coriander. Tastes good with parathas, rotis and rice.
Recipe courtesy of Vamsee