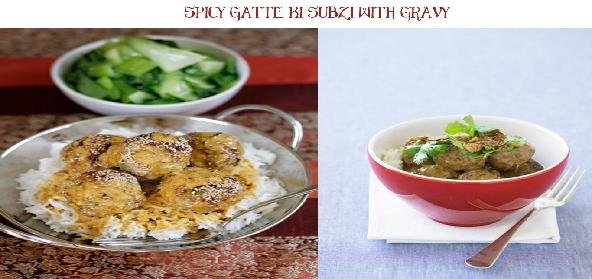 Ingredients:
• 1 cup – gram flour
• 4 tbsp oil
• 1/4 tsp salt
• 3/4 cup – sour Yoghurt
• 1/2 tsp Turmeric powder
• 2 medium-sized Tomatoes
• pinch of Asafoetida
• 1/4 tsp chilli powder
• 1/4 tsp daghi mirch or whole Red Chillies
• 1/2 tsp Cumin seeds
• 1 tsp coriander powder
• 1/2 tsp chopped Ginger
• 2 chopped Green chillies
• Green coriander leaves, chopped
• 6-7 Curry leaves
• Water for boiling
Method:
Mix two tablespoons of oil in besan, add a pinch of salt and knead it with water to make hard dough.
Now prepare one-inch diameter rolls with this dough (like bread rolls).
Put a pan on gas filled with water, immerse these rolls and boil them for ten minutes.
Then drain the water and leave to cool. When it cools down, cut it into 1/2 cm thick pieces.
Take some extra oil to shallow fry these pieces.
For the gravy:
Grind tomatoes and curd together in blender.
Put a pan on gas with two tablespoon of oil, add all the other ingredients and stir for a few seconds.
Add the tomato and curd mixture in it and mix well again.
Add 1.5 cups of water and boil it for 8-10 minutes.
Now add the fried besan gattas in it and again boil for 5 minutes and remove from fire.
Sprinkle with coriander leaves and garam masala.