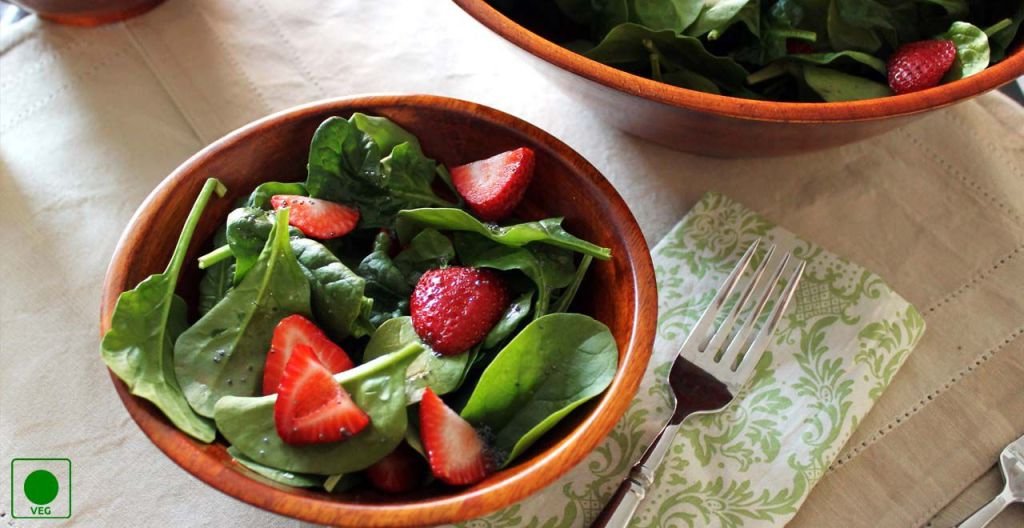 Spinach salad is a perfect springtime recipe to welcome the spring. Spinach salad is very light and delicious salad recipe with some nuts and herbs. It's very simple and easy to make at home whenever you want to eat.
Ingredients
– 1 1/2 cups fresh baby spinach
– 1 tablespoon olive oil
– 1/4 diced ripe avocado
– 3 sliced strawberries
– 1 small sliced onion
– 1/4 cup toasted walnuts
– 1/2 cup sliced almonds
– 2 tablespoon raspberry vinegar
– 1 tablespoon sugar
– Salt to taste
How To Make?
1. In a large bowl and add baby spinach, avocado, strawberries, onion, walnut, and almonds.
2. Now for dressing, in another bowl add olive oil, raspberry vinegar, sugar and salt. Whisk it well.
3. Spread this dressing mixture over the salad and toss it well.
4. The fresh springtime spinach salad is ready to serve. Enjoy this salad with your main meal.
Preparation Time: 15 Minutes