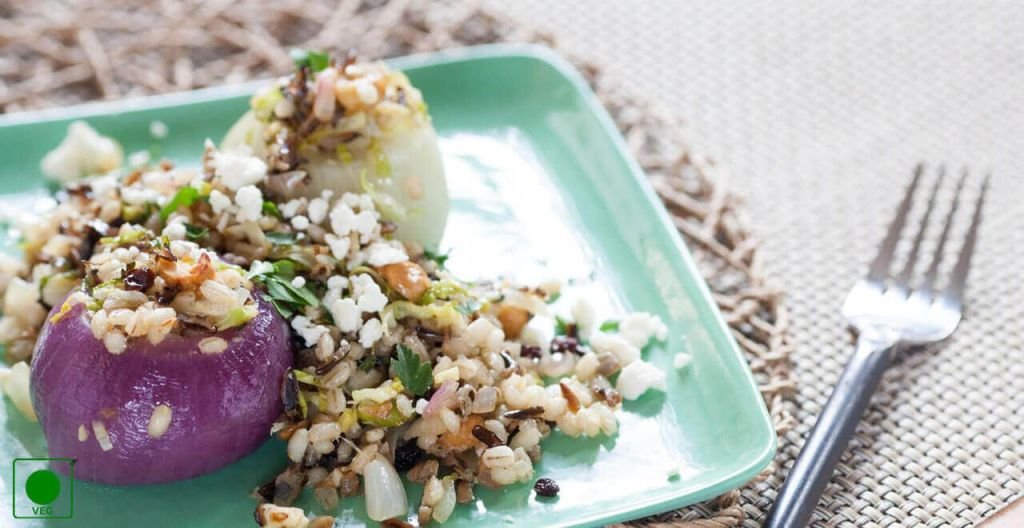 Baby onions stuffed with spices and tossed in tomato puree and curd. Enjoy this hot and delicious stuffed onion garnished with coriander leaves.For the best results use white colored onions.
Ingredients
– 8-10 onions, small in size
– 1 cup coriander leaves
– 1 teaspoon dry mango powder (amachur powder)
For the Stuffing
– 2 tablespoon oil
– 3-4 red dry chilies
– 6-7 garlic cloves
– 1 tablespoon ginger, finely chopped
– 1 cup coriander leaves
– 3 tablespoon dry coconut powder
– 1 tablespoon coriander seeds
– 1 clove
– 1 cinnamon stick
– 1/2 teaspoon cumin seeds
– 1/2 teaspoon carom seeds
– 1 tablespoon fennel powder
For the Gravy
– 2 tablespoon oil
– 1 cup curd
– 1 cup tomato, pureed and blanched
– 1/2 teaspoon red chili powder
– 1/2 teaspoon turmeric powder
– 1/3 teaspoon asafoetida
– 1/2 teaspoon mustard seeds
– Salt to taste
How To Cook?
1. In a deep kadhai, heat the oil and add cloves, cinnamon, coriander seeds, carom seeds and cumin seeds and fry for 2-3 minutes.
2. Add oil, red dry chilies, garlic cloves, ginger, coriander leaves, coriander seeds, cloves, cinnamon stick, carom seeds, cumin seeds, fennel powder, except the coconut powder. Fry for 5-10 minutes and then add coconut powder to it.
3. Now, grind them into a fine paste adding salt and very little water to it.
4. Now, take the onions and stuff the onions with this stuffing.
5. In a frying pan, heat the oil and add mustard seeds and asafoetida and wait for a few seconds.
6. Now, add tomato puree, red chili powder, turmeric powder and salt. Fry for 5-6 minutes. Add the stuffed onions and cover it and cook for 10-12 minutes.
7. Now, add curd to the mixture, cover it and cook again for 5-6 minutes. Sprinkle the dry mango powder to it and serve hot.
Preparation Time: 10 Minutes
Cooking Time: 25 Minutes
Servings: 4 Persons