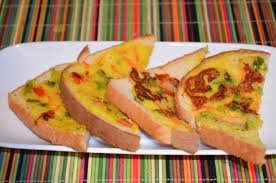 Crispy and yummy Toast made with suji and vegetables
Ingredients:
12 slices of bread of your choice
1 cup suji (semolina)
1 cup malai (fresh cream)
1 tablespoon chopped tomatoes
1 tablespoon chopped onion
1 tablespoon chopped capsicum
1 tablespoon chopped carrots
1 tablespoon chopped cabbage
2 chopped green chilies
1/2 teaspoon red chilli powder
Tomato Ketchup for garnishing
Sev or Bhujiya for garnishing
Oil for shallow frying
Salt to taste
Method:
1. Mix all the ingredients together except for bread and garnishings.
2. Apply evenly on one side of the bread slices and shallow fry on a griddle or a pan.
3. Remove from griddle and serve hot.
4. You can also spread tomato ketchup on top and sprinkle crispy sev or bhujiya on sauce layer.
5. Serve hot.
Cooking time: 30 minutes