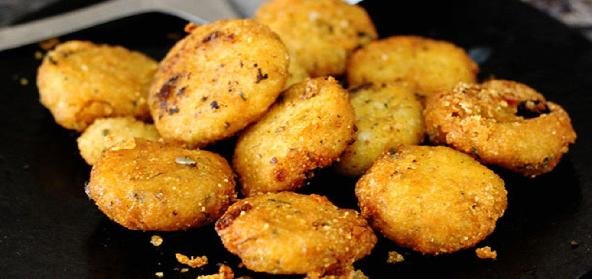 Ingredients:
• 1 cup – barnyard millet
• 2 – boiled Potatoes
• Salt as per taste
• 1/2 tsp – Cumin seeds powder
• 1 – green chillies, chopped
• 1/4 cup – crushed Peanuts
• Chopped, coriander a little
• 1.5 cups – water
Method:
Soak barnyard millet in water for about an hour.
Take a pan, add the barnyard millet and 1.5 cups of water and cooking on low flame.
When done and the water is absorbed remove from fire.
Let cool for some time.
Now add boiled mashed potatoes to the cooked chawal along with all the spices, green chillies and chopped coriander leaves and mix well to form tikki dough.
Heat oil in a kadai for deep frying.
Divide the tikki mixture in small portions and make round balls of these portions and flatten it a little.
Fry till golden brown in colour on medium flame. Deep fry till both the sides are golden brown in colour, serve
Recipe Courtesy: Mad Cooking Fusions.