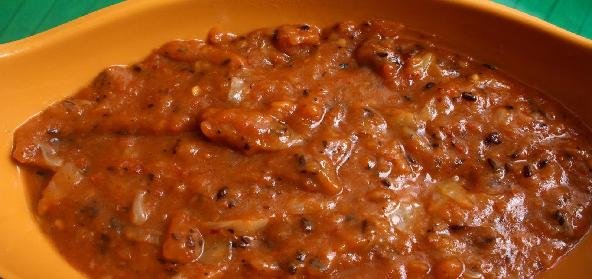 Ingredients:
• 2 – Bitter gourd
• 1.5 tsp – Mustard Seeds
• 1/2 tsp – Fenugreek seeds (methi)
• 1 – big piece Jaggery
• 1 – small piece Turmeric or Haldi powder
• 3 – Red Chillies
• 1 – small piece Hing
• 1/2 cup – Coconut grating
• 1 – Tamarind (size of marble)
• oil
• salt
Method:
Chop karelas finely. Apply salt and keep aside.
In a pan, roast 1 tsp mustard, methi, red chillies and turmeric in a little oil.
Add coconut gratings and fry for another 2 minutes.
Grind the roasted ingredients along with tamarind, jaggery and salt in to a fine paste.
Heat oil in a pan.
Squeeze the karelas of all the bitter juice, and drop them in oil. Fry karelas till brown and crisp.
Add desired quantity of water to the ground masala.
Mix karela bits into it.
Season with mustard and curry leaves. Serve it with curd rice.
Recipe courtesy of Jyoti Pai