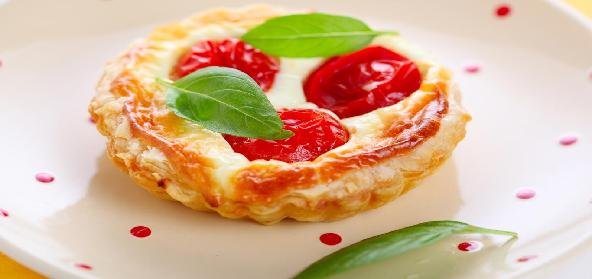 Ingredients:
• 1- Prepared Pie Crust
• 1/4 cup – Parmesan, grated
• 3/4 cup – Cheesy Garlic
• 3 tbsp – Lemon Juice,
• 1/4 cup – Fresh Basil, chopped
• Salt and Pepper
• 2 cups – Cheddar Cheese, grated
• 8-10 – Plum Tomatoes, sliced (any Tomato will do)
• 1/2cup – Scallions, thinly sliced
Method:
Preheat oven to 350 F. Place pie crust in oven and bake for 10 minutes, then set aside to cool.
In a small bowl, mix parmesan cheese, cheesy garlic, lemon juice, salt and pepper, then set aside.
Layer the tomatoes in the pie crust; sprinkle some of the basil on top of the tomatoes, cover with the mayonnaise mixture and sprinkle liberally with cheddar cheese. Repeat until pie crust is filled.
Bake for 30-40 minutes until the crust is golden and the pie bubbly.
Allow the pie to cool for at least 20 minutes. The pie is easier to cut and serve when cooled.
Recipe courtesy of Sify Bawarchi