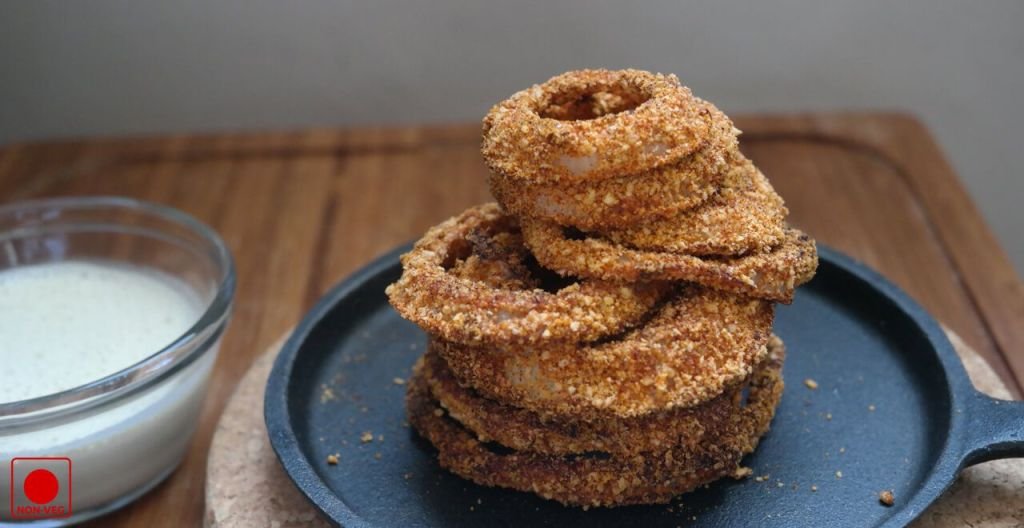 Baked Onion Rings are simply incredible! These baked onion rings are healthy and low fat yet delicious. They are crispy outside and tender on the inside without getting soggy. This snack has irresistible taste and crunchy texture and it is very easy to make a little lighter. The preparation time can be a little long but when it comes out it tastes very yummy and with this crispy savoury you won't be able to resist it. Try this healthy version of onion rings today!
Ingredients
– 1 large yellow onion, peeled andamp; cut into slices
– 1/3 cup flour
– Salt to taste
– 1/2 teaspoon chilli powder
– 2 cups breadcrumbs
– 2 eggs
– 2 tablespoons water
– Non-stick spray
How To Cook?
1. Preheat oven to 450 C. Line a baking sheet with foil and spray heavily with nonstick spray.
2. Separate the onion slices into rings and place them in a bowl of water.
3. In a bowl, whisk together the eggs and water.
4. In another bowl, combine the flour, chilli powder and salt. Also take some breadcrumbs in a plate.
5. After all this take an onion ring and toss it in the flour mixture and make sure it coats well. Then dip it in beaten egg and coat all side well. At last, toss the ring in the breadcrumbs to coat.
6. Place this onion ring on a baking sheet and repeat process with remaining rings.
7. Spray the rings with non-stick spray and bake this rings for 10-15 minutes or until golden brown.
8. Remove from oven and serve with dipping sauce of your choice.
Preparation Time: 15 Minutes
Cooking Time: 15 Minutes
Servings: 4 Persons