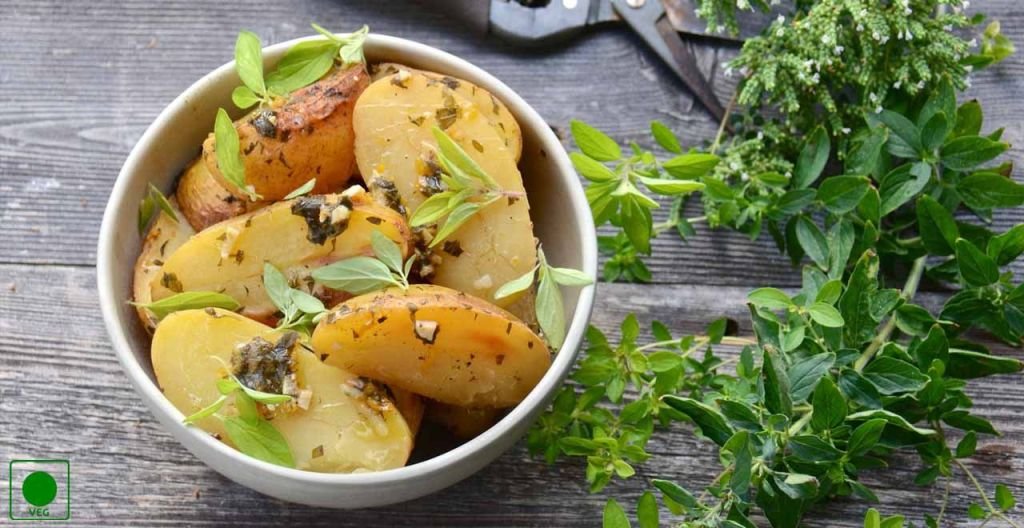 Baked potatoes with oregano, this dish is an exotic fasting recipe. It is little bit time consuming but the taste and flavors of it will remains fresh in your memory for long. This will made with using traditional ingredient – potatoes. The flavors relished by oregano and pepper powder that gives an elegant and exotic touch to this recipe. Have this plain or you can enjoy with our traditional fasting chutney -green coriander and mint chutney.
Ingredients:
– 500 gm potatoes
– 1/2 cup olive oil
– 4 tablespoons lemon juice
– Salt to taste
– Pepper powder to taste
– Some oregano to flavor
How To Cook?
1. Take potatoes and peel them then rinse and drain them.
2. Now, cut the potatoes into small pieces.
3. In a baking pan, set these dices potatoes and pour olive oil and lemon juice on them.
4. Then sprinkle salt, pepper powder and oregano then stir them gently.
5. Put this baking pan into microwave and bake at 350 F for about one hour.
6. Once it's ready serve hot with coriander chutney.
Preparation Time: 15 Minutes
Cooking Time: 1 Hour
Servings: 3 Persons