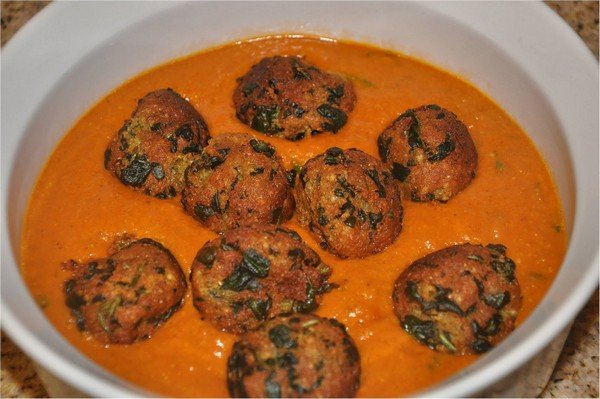 Ground meat or vegetable croquettes bound together by spices and/or eggs served alone or in savoury gravy. Koftas are usually softer than boras which are mainly made of ground lentils, sometimes with added chopped vegetables. Telebhaja is different.
A general term often used in Bengal the way curry is used in English. The word first meant uncooked garden vegetables. From this it was a natural extension to mean cooked vegetables or even fish and vegetables cooked together.
Usually a vegetable dish with one or more varieties of vegetables cut into longish strips, sometimes with the stalks of leafy greens added, all lightly seasoned with spices like mustard or poppy seeds and flavoured with a pouron. Sometimes a chochchori may have small shrimp. The skin and bones of large fish like bhetki or chitol can be made into a chochchori called katachochchori (kata meaning fishbone). The stir frying process and the lightness of a chochhori is not unlike that of chop suey, which is a term for assorted pieces, and this shows the influence of the Chinese in Bengali household cooking. The chochhori would be generally an assortment of vegetable and fish bones and other things that would have been rather thrown away, fried in a korai,(a slightly rounded wok), over high heat at first, and then simmered to let the vegetables cook down to being just done, and then taken off the flame immediately to stop cooking. The cooking procedure adds to the confirmation of the entrance of Chinese style of cooking into Kolkata during the mid1800s, prior to which this particular dish was not very popular in Bengali cuisine.
Biriani is one of the oldest foods existing within these regions, and has its own food culture that is deeply steeped in history. The rice dish is found all over India and other parts of Asia, and is made slightly differently depending on the location. In Bangladesh, it is often made with mutton or beef, whereas in West Bengal you will find it with potatoes, egg, dal, fish or vegetables, and sometimes chicken. Tehari is a variant of biriani found most commonly in Bangladesh, and is most commonly cooked with beef, onions, cardamom, cloves and bay leaves, creating a very aromatic flavour. To taste some of the best biriani, you must travel to the city of Dhaka and take a rickshaw to Hazir Biriani, which is celebrated throughout the city for its amazing take on this age old dish. Existing for over 70 years and across two generations, you may have to queue for some time but it is well worth the wait.
This famous dish is now the mainstay of a wedding in a wealthy family in Dhaka. It is cooked with parboiled rice cooked with layers of raw kacchi mutton pieces, quite distinct from the West Bengal variety, which uses basmati rice and pakki (precooked) mutton pieces . When on dum, i.e., steamed in a sealed pot over slow wood fire [gas fire, or electric cooker will not do] both rice and mutton will cook perfectly. Special spices including very expensive saffron is used by the famous chefs of this special dish.
Highly spiced, cooked in a pot with lots of ghee.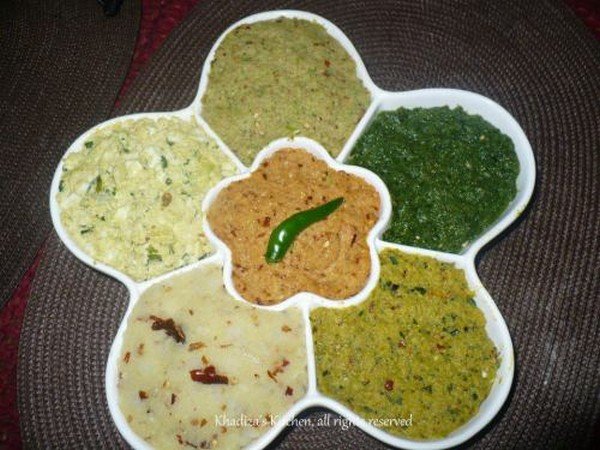 Any vegetable, such as potatoes, beans, sour mangoes, papaya, pumpkins or even dal, first boiled whole and then mashed and seasoned with red shallot, fresh chile, mustard oil/ghee and spices.