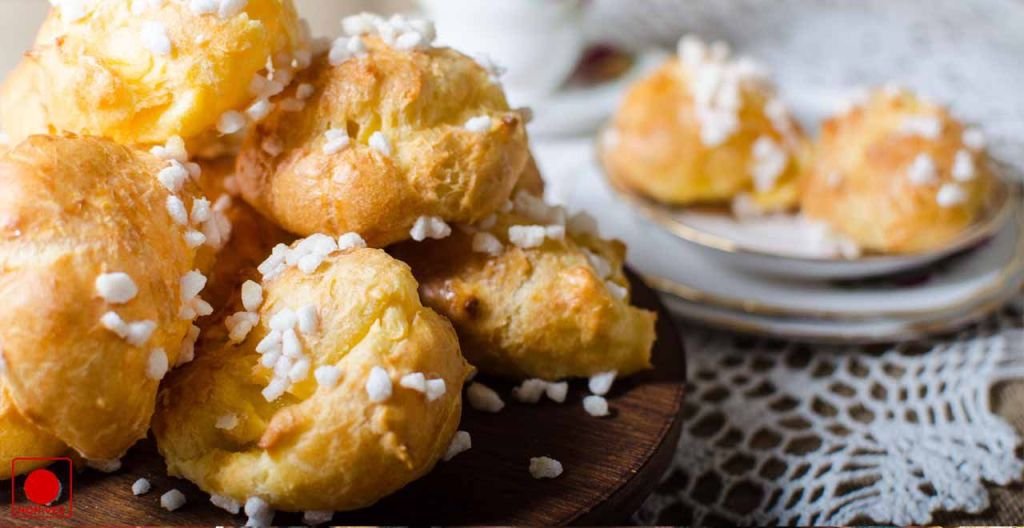 There are basically two choux pastries recipes are very popular one with ?clairs and other with profiteroles. But today we are going to learn Cheesy Choux Pastry. It is very light pastry and it looks as good as it tastes. This pastry is generally made with the Ingredients such as water, butter, flour, eggs, cheddar cheese andamp; cream cheese, paprika, pepper and salt. After baking this pastry it comes out very crisp and of course it tastes very yummy.
Ingredients
To Make Choux Pastry
– 60 gm butter
– 75 gm sifted plain flour
– 2 medium beaten eggs
– 30 gm grated cheddar or parmesan cheese
– Good pinch of smoked paprika/ cayenne pepper
To Make Filling
– 400 gm cream cheese
– 3 tablespoons finely snipped chives
– Salt to taste
– 1/2 teaspoon freshly ground black pepper
– 2 baking sheets, line with bake well paper
How To Cook?
1. Put the butter and 150 ml water in a small pan. Heat until the butter melts.
2. Bring the mixture to the boil and quickly add the flour and beat well to smooth dough then switch off the flame.
3. Bring it to cool for 5 minutes.
4. After that add half portion of beaten egg to that dough and beat well.
5. Then gradually beat in remaining beaten egg to get a shiny pastry.
6. Add all but about 2 teaspoons of the cheese and a pinch of paprika or cayenne.
7. Set the oven to 220 C.
8. Meanwhile, spoon 16 tablespoons of choux pastry on to baking sheets.
9. Sprinkle with the rest of the cheese and more paprika or cayenne.
10. Bake this choux pastry for 25 minutes then turn the puffs over on the baking sheet and bake for another 5 minutes until crisp.
11. Then let them cool down.
12. Now, soften the cream cheese and mix in the chives then season it with black pepper and salt. Mix well.
13. Pipe or spoon this filling mixture into the split buns.
14. Serve it on the day of making.
Preparation Time: 20 Minutes
Cooking Time: 40 Minutes