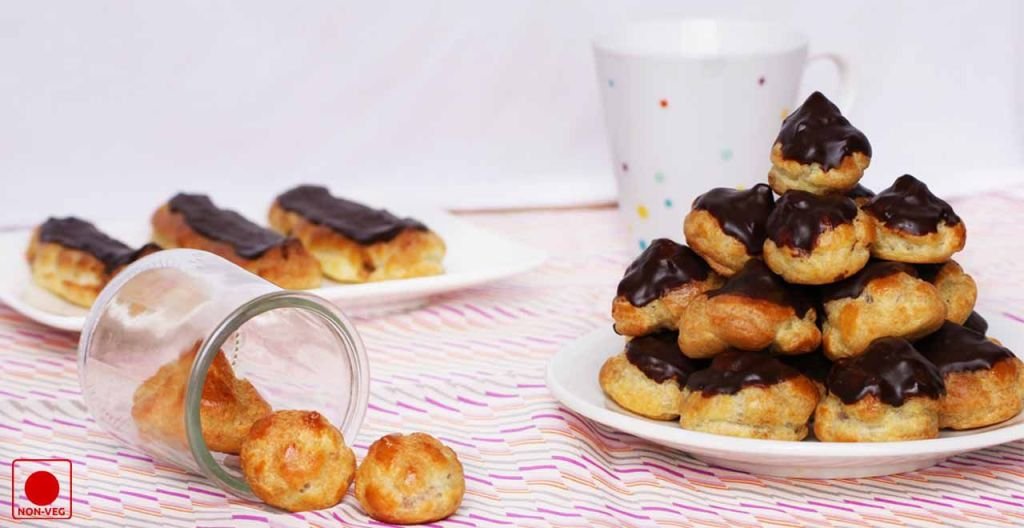 Chocolate Eclairs is tasty combination of pasty, choux dough and topped with a dark chocolate icing. This is very easy and quick to make recipe which everybody loves to have it. Let's make this delicious chocolate Eclairs together.
Ingredients
– 100 gm fresh cream
– 1 tablespoon icing sugar
– 5 gm cocoa
– 1 tablespoon water
How To Cook?
1. Pre heat the oven at 250 C for 5 minutes.
2. Make the choux pastry as given in basic recipe.
3. Put the mixture into a piping bag.
4. Pipe the mixture into a baking tray into 3″ long finger.
5. Bake at 200 C for about 20-30 minutes till it becomes crispy.
6. When baked don't remove the tray from the oven immediately just open the door and leave it in the oven for about 10 minutes to prevent collapsing.
7. Remove from the oven and slit them on one side to let the steam escape, leave to cool.
8. Whip the cream and sweeten it with sugar fill into the eclairs.
9. Cover the top of the eclairs with chocolate icing.
For icing
1. Sieve icing sugar and cocoa together.
2. Add warm water and mix tot a paste till smooth and glossy.
Preparation Time: 20 Minutes
Cooking Time: 40 Minutes