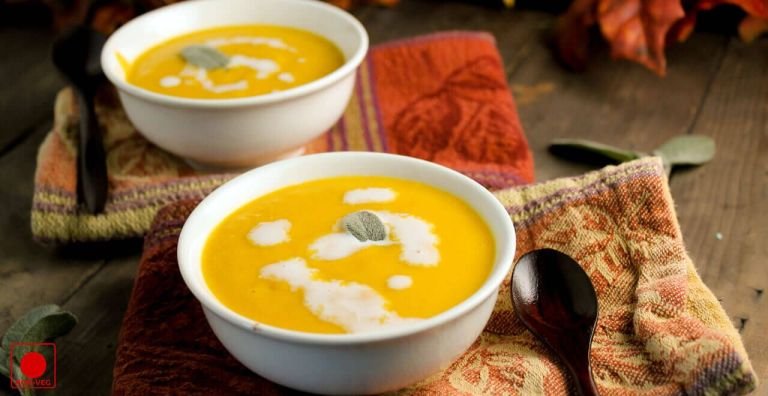 Pumpkin soup is a silky-textured, delicious soup made with onions, pumpkin and chicken stocks. This creamy pumpkin soup will make your kids more hungry and craving for the pumpkin. Learn to make the soup.
Ingredients
– 1 cup onions, chopped
– 2 cup pumpkin, cubes
– 1-litre chicken stock
– 2 tablespoon ginger paste
– 2 tablespoon curry powder
– 1 orange rind of. Grate
– 5 tablespoon skim milk powder
– Salt to taste
– 2 tablespoon butter
– A pinch of pepper powder
How To Cook?
1. In a pan, add butter, onions, ginger, pumpkin, curry powder, orange ring, water and mix them well.
2. Put the pan over the heat and cook on MEDIUM heat till the pumpkin is completely cooked and becomes soft.
3. Once the mixture is ready, remove the pan from the heat and transfer the mixture into the blender.
4. Blend the mixture until smooth.
5. Then add the milk powder to the mixture and again blend it.
6. Now, transfer this mixture to the pan and again cook it till the milk powder is cooked for 5-10 minutes.
7. Once the soup is a ready remove the pan from the heat.
8. Correct seasoning and serve the hot creamy pumpkin soup.
Preparation Time: 20 Minutes
Cooking Time: 25 Minutes