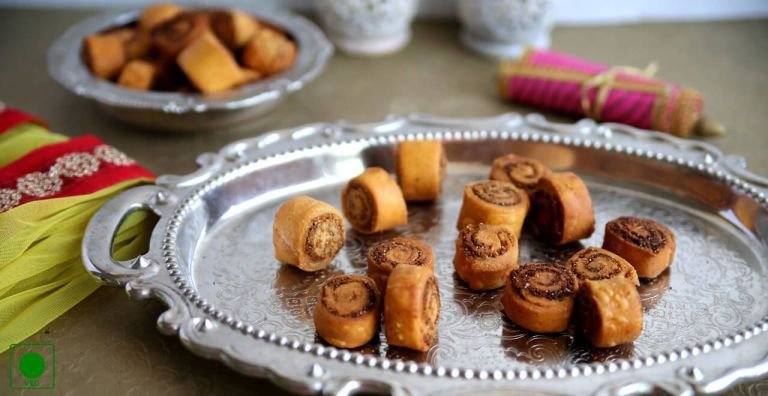 Bhakarwadi is a traditional maharastrian snacks recipe. Bhakarwadi is spicy and fried snacks. But, rather than frying you can also bake it into the microwave. Bhakarwadi is very tasty and delicious snacks that you can enjoy with tea or coffee. Today I am sharing an interesting recipe for making bhakarwadi, it's a dry bhakarwadi recipe which contains dry Ingredients and can be stored for the longer time. This dry bhakarwadi gives your taste buds the flavors of various spices with sweetness. You make it and store them for weeks. Let's make bhakarwadi together.
Ingredients
For making outer layer
– 2 cup gram flour (besan)
– 1 cup wheat flour
– Salt to taste
– 1 teaspoon red chili powder
– 1 teaspoon turmeric powder
– 2 tablespoon oil
– Water as required
For Stuffing
– 2 cup gram flour (Besan)
– 2 cup sev
– 2 tablespoon dry coconut, grated
– 2 tablespoon oil
– 1 teaspoon poppy seeds
– 1 teaspoon garam masala
– 1 tablespoon sugar
– 1 teaspoon Amchur powder
– 1 teaspoon coriander powder
– Salt to taste
To make Chutney
– 1 cup peanuts
– 7-8 cloves garlic
– 1 tablespoon red chili, pasted
– Salt to taste
– jaggery
How To Make?
1. In a bowl, mix gram flour and wheat flour.
2. Now, add turmeric powder and oil and make a tough dough from it. Cover it and keep it aside.
3. Now, in another bowl add gram flour and add red chili powder and oil to it and make a semi-thick batter from it.
4. Now, heat the oil into the deep frying pan and make a fritters (pakora) from the gram flour batter. Keep it aside to cool.
5. Once the fritters becomes cool, crack it and make a powder of it. Then add sev, dry coconut and mix them.
6. Now, add oil, poppy seeds, salt, garam masala, coriander powder, sugar and amchur powder to it and mix well. Keep it aside.
7. Now to make chutney, mix all the Ingredients and add required water to it and grind it well and your chutney is ready.
8. Now, take a dough and divide it into small portions.
9. Take one part of the dough and roll it into a thin chapatti. Spread previously made chutney on the chapatti and stuffings on it.
10. Now, roll out the chapatti, covering the mixture. Ensure that the stuffing should not come out of the chapatti.
11. Now, cut this chapatti roll into equal portions and keep it aside for 2-3 minutes.
12. Then fry it into hot oil.
13. Delicious dry bhakarwadi is ready to enjoy!
Preparation Time: 15 Minutes
Cooking Time: 25 Minutes
Servings: 4 Persons