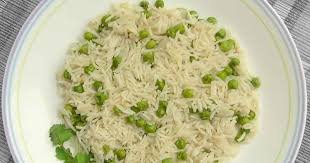 Mild and fragrant rice pulao with green peas
Ingredients:
1 1/2 cups basmati rice
1/2 cup green peas
1 finely sliced onion (optional)
1 teaspoon jeera (cumin seeds)
1 teaspoon garam masala powder
Salt to taste
Method:
1. Wash rice thoroughly with water and soak for 15 minutes. Drain and keep aside.
2. Heat oil in a pan or kadhai, add cumin seeds and allow it to crackle.
3. Now add onion and saute until golden brown.
4. Add garam masala powder, stir and add rice. Saute for 2 minutes.
5. Add 3 cups water and bring to boil. Reduce heat, add peas and salt.
6. Cover and cook over low heat (simmer) for 15-20 minutes, until the rice is tender and the water has been absorbed and peas are cooked.
Cooking time: 30-35 minutes