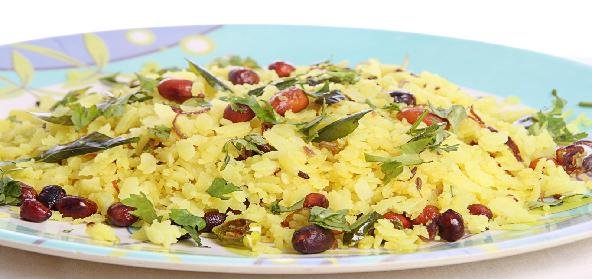 Healthy and spicy vegetable poha, apt for breakfast
Ingredients:
2 cups poha or chiwda (flaked, beaten rice)
1 tablespoon kadi patta (curry leaves)
1 1/2 teaspoon mustard seeds
2 chopped green chilies
1 teaspoon ginger-garlic paste
1 tablespoon chopped onion
1 tablespoon chopped capsicum
1 tablespoon peas
1 small peeled, thinly diced potato
1 tablespoon chopped tomatoes
1 tablespoon roasted peanut
1/2 teaspoon red chilli powder (optional)
1/2 teaspoon turmeric powder
1 tablespoon lemon juice
2 teaspoon sugar (or to taste)
1 tablespoon chopped coriander
1 tablespoon oil
Salt to taste
Method:
1. Wash poha thoroughly with water and soak until soft, for about 5-10 minutes.
2. Drain water, add salt according to poha, lemon juice and sugar in soaked poha and mix well. Keep aside.
3. Now heat oil in a kadhai or pan, add mustard seeds, curry leaves and allow it to crackle.
4. Add green chilies, ginger-garlic paste and saute for a minute.
5. Then add onion, capsicum and fry until they are transparent.
6. Add turmeric powder, saute for half a minute and then add potatoes, peas, peanuts, salt according to vegetables.
7. Turn the heat to low and cover the pan with a lid, let it cook until potatoes are soft and cooked.
8. Now put red chilli powder, tomatoes and saute for 3-4 minutes.
9. Now add the poha mixture in the pan and stir well on high heat for 2 minutes.
10. Garnish with chopped coriander leaves and serve hot.