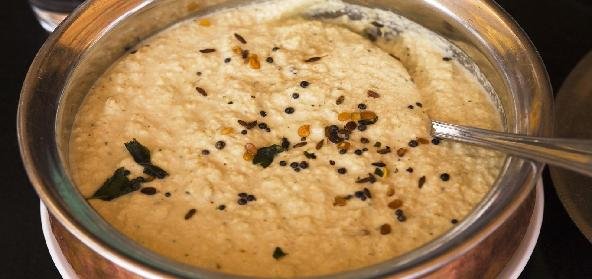 Ingredients:
• 100 g fried groundnuts (if using raw nuts, fry in 1/2 tbsp cooking oil)
• 5 Red Chillies
• 1 tbsp Mustard Seeds
• 1 tbsp moong dal
• 1 tbsp Channa dal
• A pinch of Asafoetida
• 1-2 Cloves Garlic
• A small size Onion (optional)
• Salt to taste
• A small piece Tamarind (cherry size)
Method:
Heat one tbsp of oil in a kadai. Add mustard, channa dal and moong dal. Fry till golden brown or until the mustard seeds pop.
Add red chillies and fry till chillies are brown.
Add hing followed by salt.
Leave it aside to cool.
Transfer all the contents from kadai to blender. Add garlic, tamarind and grind.
When it is half-ground, add fried groundnuts and a little water and mix well.
Frequently check the consistency by adding a few spoons of water and mixing the ingredients uniformly. The chutney tastes good when it is neither too soft nor too coarse.
Just before removing, add small cut onion pieces and mix well. See that onions are just mixed and not ground into paste.
This chutney goes well with hot rice, idlis and dosas.
Recipe courtesy of Ragamayi