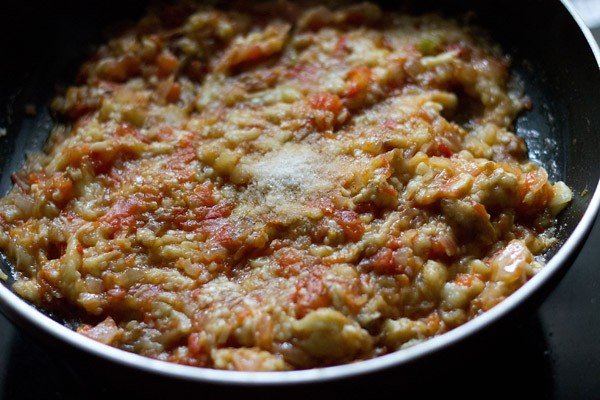 North Indian delicacy made of mashed brinjals, herbs and spices
Ingredients:
1 large purple brinjal (aubergine)
1/4 cup green peas (optional)
For onion paste
2 large onions
2 green chilies
1 inch of ginger
1/4 teaspoon turmeric powder
1/2 teaspoon garam masala powder
1 teaspoon red chilli powder
2 cup tomato puree
2-3 tablespoon cooking oil
1 tablespoon fresh coriander leaves
Salt to taste
Method:
1. Wash brinjal, pat dry, grease it with a little oil on its outer side and roast it over medium to high flame (directly on the gas burner), until tender from inside and the outer skin becomes hard and starts peeling off.
2. Remove from flame, after it is a little cool, peel off the outer skin and remove the stem completely. Now mash the inside of the brinjal and keep aside.
3. Heat oil in a pan or wok, add onion paste and fry until golden brown.
4. Add tomato puree, red chilli powder, turmeric powder and fry until oil separates.
5. Add green peas, garam masala, cover and cook until green peas are soft.
6. Then add the mashed brinjal and salt.
7. Cover and cook over low heat for about 10 -15 minutes.
8. Garnish with fresh coriander leaves.
Cooking time: 40-45 minutes