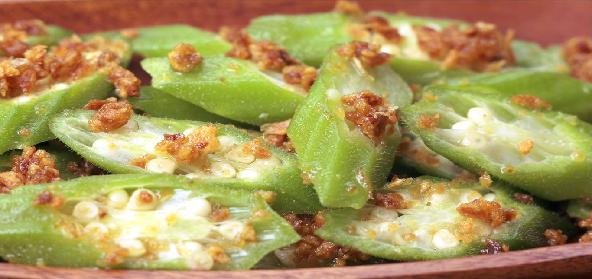 Ingredients:
• 1/4 kg – lady`s fingers (chopped)
• 3 – green chilli, slit
• 1 – onion, (cubed)
• Curry leaves, a few
• 2 cups – Coconut Milk
• 1/4 tsp – Turmeric powder
• 1 tsp – coriander powder
• Oil, enough to fry
• 1 pkt – Maggi extra taste Chicken powder (optional)
• Salt to taste
Method:
Fry the chopped lady`s fingers till light brown and remove from oil.
Heat 2 tsp of the same fried oil and saute onion, chillies and curry leaves.
When it starts to change the colour, add turmeric powder, coriander powder and saute till the raw smell disappears.
Add the coconut milk and maggi cube and bring to a boil.
Finally, add the fried lady`s fingers and let it cook for about 5 mins and remove from heat.
Recipe courtesy of Friends cookys