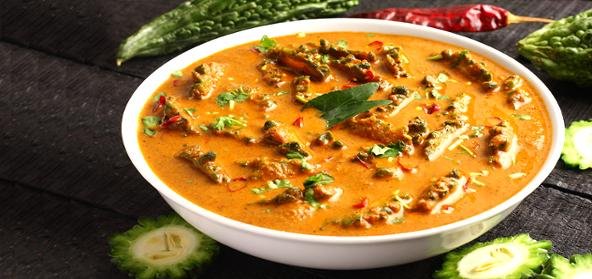 Ingredients:
• 2 – Bitter gourd
• 1/2 cup – baby Onion
• Curry leaves
• 1 – tamarind, gooseberry size
• Salt to taste
• For Grinding:
• 1/2 cup – grated Coconut
• 8 – Red Chillies
• 3 tsp – Coriander seeds
• 3 tsp – Urad Dal
• 1/4 tsp – pepper
• 2 tsp – oil
Method:
Peel the skin of baby onion and keep it aside.
Pour the oil in the pan and fry the red chillies, coriander seeds, urad dal, and pepper.
Along with this add grated coconut and fry till it turns golden red colour.
Grind the above ingredients to a fine paste and keep it aside.
Finely chop the bitter gourd and keep it aside. Pour the oil the in the pan and deep fry the bitter gourd to avoid the bitter taste. Take this aside in a plate.
Pour the oil the in the pan and add mustard seeds once the oil is hot. When the mustard seeds begins to sputter, add curry leaves and then add the onions and fry till the onion changes its colour.
To this add the fried bitter gourd pieces.
Now add the tamarind extract and salt and let the mixture boil for some time.
Finally add the ground paste and when the Bitter Gourd (Paavakaai) Theeyal starts Boiled, switch off the flame.
Recipe courtesy: Subbu's Kitchen.