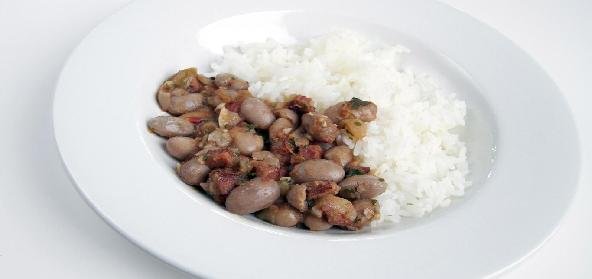 Ingredients:
• 1 cup – black eye beans
• 2 tbsp – oil
• 1 tsp – Cumin seeds
• Pinch of Asafoetida
• 1 tbsp – coriander powder
• 1 tbsp – shredded Ginger
• 1/2 tsp – Red Chilli powder
• 1/2 tsp – Turmeric powder
• 1/2 tsp – Mango powder
• 1/2 tsp – Garam Masala
• 1 tsp – salt
• 3 cups – water
• 1 – chopped Tomato
• For garnishing:
• 2 – red Green chillies
• 2 – wedges of Lemon
Method:
Wash and soak beans for one hour or more.
In a small bowl, mix the ginger, green chilli, coriander powder, turmeric powder and 3 tbsps of water to make a paste.
Heat the oil in pressure cooker on medium heat.
Test the heat by adding one cumin seed to the oil.
If seed cracks right away, oil is ready.
Add the cumin seeds, and as they crack add asafoetida and spice paste.
Stir for a minute. Add black eyed beans, salt and water.
Close the pressure cooker. As it starts steaming, turn the heat down to medium and cook for 6-7 minutes.
Turn off the heat and wait until steam has stopped before opening the pressure cooker.
Black-eyed beans should be soft and tender.
Add mango powder, garam masala and tomatoes. Cover the cooker for few minutes.
That will give tomatoes the chance to get semi cooked with steam.
Black eyed beans are ready to serve. Garnish with wedges of lemon.
Recipe courtesy of Chef Yazdi