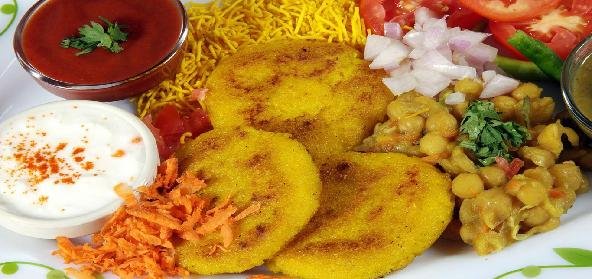 Ingredients:
• 4-5 slices bread, toasted lightly
• 1/2 cup finely chopped Onions
• 1/2 cup finely chopped Tomatoes
• 1/2 cup finely chopped boiled Potatoes
• 2 tbsp finely chopped coriander
• 1/2 cup fine sev
• Tamarind chutney
• spicy green chutney
• salt to taste
Method:
Run toasted bread in a mixie to get fine crumbs. Sprinkle a little water and mix.
In small individual bowls, first put a layer of onion, then tomato, then potato, then bread crumbs and then sev.
Sprinkle some of the chutneys.
Sprinkle a pinch of salt.
Garnish with coriander and some sev.
Serve immediately with hot tea or coffee.
Recipe courtesy of Saroj Kering